Iran's Deputy FM, UN's De Mistura Discuss Syria in Astana
TEHRAN (Tasnim) – Iranian Deputy Foreign Minister for Arab and African Affairs Hossein Jaberi Ansari, leading the country's diplomatic mission at the fourth round of talks between Damascus and militant groups in Kazakhstan, met with Staffan de Mistura, the UN mediator for Syria, on Wednesday.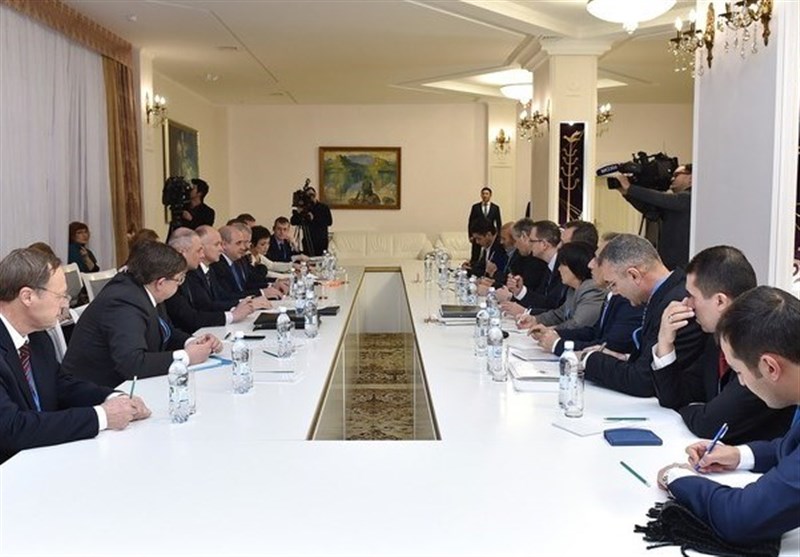 During the meeting, the two sides discussed the latest developments regarding the crisis in Syria as well as the peace talks underway in the Kazakh capital of Astana.
The Iranian diplomatic delegation arrived in Astana on Tuesday morning to attend the two-day peace talks. The intra-Syrian negotiations started in the Kazakh city on Wednesday.
In the meeting, Jaberi Ansari called for serious and real determination of all parties involved in the talks to find a proper solution and help swiftly settle the conflict in the Arab country.
This is the fourth round of talks between the Syrian government and the foreign-backed opposition in Kazakhstan. Russia, Iran and Turkey sponsor the initiative. The militants, who snubbed the previous round in March, hold talks with the Damascus delegation, led by Bashar al-Ja'afari, who is Syria's top negotiator and the country's envoy to the UN.
Spokesman of the Kazakh Foreign Ministry Anuar Zhainakov said on Wednesday that all participants of the talks have arrived in Kazakhstan's capital.
The US has also sent Stuart Jones, acting assistant Secretary of State for the Near East Affairs Bureau, to observe the talks. That would raise the level of US presence in the negotiations as Washington had only dispatched its ambassador to Astana to the previous rounds.
Head of Jordan's delegation also confirmed his participation in the talks.
Diplomatic efforts to end fighting in Syria have gained momentum in recent months with the announcement of a ceasefire in the Arab country in early January.
The truce excludes terrorist groups such as Daesh (ISIL or ISIS) and Jabhat Fateh al-Sham.
Syria has been gripped by civil war since March 2011 with various terrorist groups controlling parts of it.
According to a report by the Syrian Center for Policy Research, the conflict has claimed the lives of over 470,000 people, injured 1.9 million others, and displaced nearly half of the country's pre-war population of about 23 million within or beyond its borders.