Saudi-Backed Opposition Group Leaves Syria Talks in Astana
TEHRAN (Tasnim) – Syria's main opposition group, the High Negotiations Committee (HNC), said it is quitting ongoing peace talks with the government in the Kazakh capital of Astana, repeating allegations of continued bombing in the Arab country.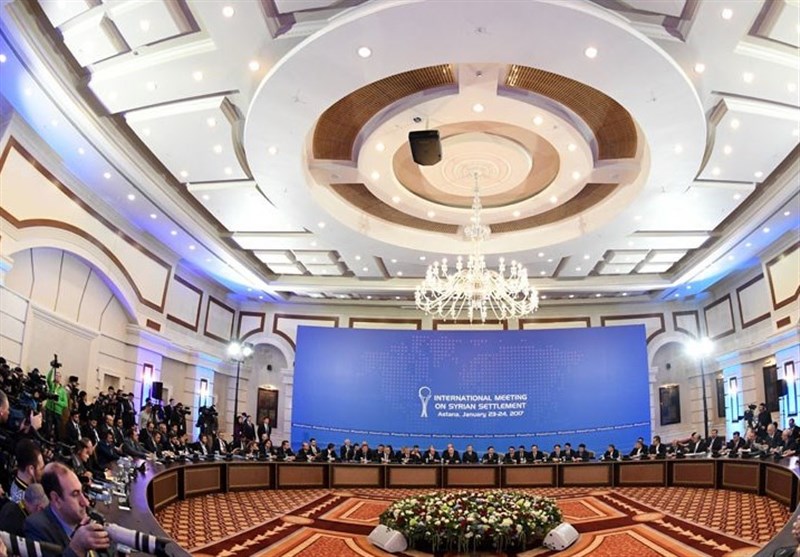 "Let them stop killing. You do not call on people for taking part in these talks, for a ceasefire, and at the same time kill them. This is a war crime," Yahya al-Aridi, a member of the HNC, told the Tass news agency.
In the meantime, the so-called Free Syrian Army tweeted that participation in the talks was suspended due to operations by government forces in Nasib and Hama and also in the eastern part of Damascus.
"The opposition delegation withdraws from today's meeting due to continuous regime attacks, especially on Nasib and Hama," the post said.
The militants also snubbed the previous round of the negotiations in March.
This is the fourth round of talks between the Syrian government and the foreign-backed opposition in Kazakhstan, sponsored by Russia, Iran and Turkey.
Diplomatic efforts to end fighting in Syria have gained momentum in recent months with the announcement of a ceasefire in the Arab country in early January.
The truce excludes terrorist groups such as Daesh (ISIL or ISIS) and Jabhat Fateh al-Sham.
Syria has been gripped by civil war since March 2011 with various terrorist groups controlling parts of it.
According to a report by the Syrian Center for Policy Research, the conflict has claimed the lives of over 470,000 people, injured 1.9 million others, and displaced nearly half of the country's pre-war population of about 23 million within or beyond its borders.