New South Korean President Hints at Trip to North Korea
TEHRAN (Tasnim) - Japanese Prime Minister Shinzo Abe sent a congratulatory message to South Korean President Moon Jae-in, saying he looks forward to working together to develop their relationship and tackle North Korean threats.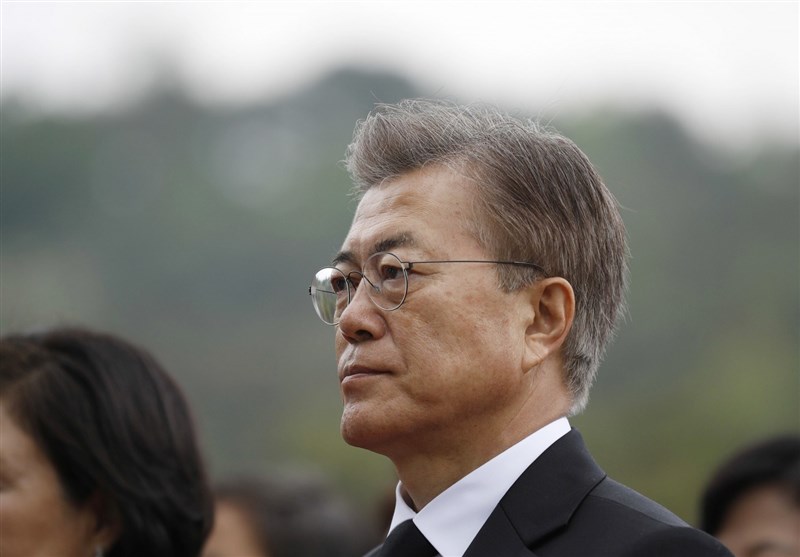 Abe said Wednesday that both countries had common challenges and he believed they could contribute to the region's peace and prosperity by cooperating with each other.
Abe said he hopes to meet with Moon as early as possible to discuss issues of mutual interest, AP reported.
Relations were strained under ousted Park Geun-hye's leadership over Japan's wartime sexual exploitation of Korean women known as "comfort women."
New South Korean President Moon Jae-in says he'd be willing to visit rival North Korea under the right conditions.
Moon, speaking Tuesday during his formal oath of office, didn't elaborate. But he favors a softer approach to dealing with North Korea and its nuclear and missile ambitions than his conservative predecessors.
Moon also said that he will negotiate with the United States, the South's top ally, and China, Seoul's top trading partner, over a contentious US missile-defense system deployed in the South. Beijing says the system allows Washington to spy on China's military operations.
South Korean President Moon Jae-in has taken the oath of office in a ceremony at the National Assembly in the capital, Seoul. The oath took place hours after his presidential term began.
Moon assumed presidential duties earlier on Wednesday after the National Election Commission declared him winner of a presidential by-election to replace ousted leader Park Geun-hye, who now awaits a corruption trial in jail.
Moon is also expected to name his nominee for prime minister, the country's No. 2 job, which needs the approval of lawmakers, and also his presidential chief of staff, later in the day.
A Chinese state news agency says President Xi Jinping has congratulated Moon Jae-in on his election as the South Korean president.
The one-line dispatch from the official Xinhua News Agency gave no other details.
Relations between Beijing and Seoul have sunk to their lowest point since they established diplomatic relations in 1992. Initially close relations between the two under President Park Geun-hye rapidly deteriorated because of Chinese anger at Seoul's deployment of a US missile-defense system.
Seoul and Washington say the system known by its acronym, THAAD, is meant to protect against North Korea's missile threats. Beijing says it threatens China's own security by an ability to peer into the country's northeast.
The dispute has sparked widespread commercial retaliation against South Korean businesses and industries including tourism and entertainment.
New South Korean President Moon Jae-in has visited a national cemetery where he honored the country's former presidents, independence fighters and war heroes as he began his presidential duties.
After bowing to honor those buried at the cemetery in Seoul on Tuesday, Moon wrote "A country worth being proud of; a strong and reliable president!" in a visitor book.
He was expected to take an oath of office at noon at the National Assembly. He immediately assumed his presidential duties after being declared winner of the special election held after former President Park Geun-hye was ousted in a corruption scandal.
Hundreds of residents gave Moon an emotional send-off near his private Seoul home before he left for the cemetery, shaking his hands, hanging flowers on his neck and asking him to pose with their children, including a baby.
New South Korean President Moon Jae-in, taking up his duties as commander in chief, has been briefed by the chairman of the Joint Chiefs of Staff about the military's preparedness against North Korea.
Moon will be sworn into office at noon Wednesday but has immediately assumed his duties because of the circumstances of Tuesday's special election.
In his phone call with Army Gen. Lee Sun-jin he said he trusts the military's ability to protect the nation.
Moon's Democratic Party says Lee told the president that the South's military was closely monitoring the North and prepared to "immediately and sternly" respond to potential provocations by the North.
South Korea's election body has officially declared liberal Moon Jae-in as the country's new president a day after millions voted in an election to replace ousted former leader Park Geun-hye, who now awaits a trial over corruption charges in jail.
The National Election Commission finished counting votes earlier on Wednesday and said Moon gathered 41 percent of the votes, comfortably edging his closest rival, conservative Hong Joon-pyo, who gathered 24 percent of the votes.
South Korea may see a sharp departure from recent policy under Moon, who favors closer ties with North Korea. He says the hard line Seoul's conservative governments took in the past decade did nothing to prevent the North's development of nuclear-armed missiles and only reduced South Korea's voice in international efforts to counter North Korea.
The White House is congratulating South Korea's Moon Jae-in on his election as the country's next president.
White House press secretary Sean Spicer is noting in a statement South Korea's "peaceful, democratic transition of power" and he says the administration looks forward to working with Moon "to continue to strengthen the alliance" between the two countries.
South Korea is a key US ally in its push to get North Korea to rid itself of its nuclear and ballistic weapons program.
The liberal former human rights lawyer claimed victory late Tuesday after his two closest rivals conceded. It follows months of political turmoil caused by ousted President Park Geun-hye's corruption scandal.
Liberal Moon Jae-in has declared victory in South Korea's presidential election after his two major rivals conceded defeat Tuesday.
The election sets up the country's first liberal rule in a decade.
It follows months of political turmoil caused by ousted President Park Geun-hye's corruption scandal.
The concessions by conservative Hong Joon-pyo and centrist Ahn Cheol-soo came after exit polls forecast that Moon would win.
Two major challengers for South Korean president, a conservative and a centrist, conceded defeat Tuesday, paving the way for liberal Moon Jae-in to claim victory in an election that followed months of political turmoil caused by ousted President Park Geun-hye's corruption scandal.
The concessions by conservative Hong Joon-pyo and centrist Ahn Cheol-soo followed exit polls that earlier forecast that Moon would win, ending a decade of conservative rule in South Korea and setting up a sharp departure from recent policy toward nuclear-armed North Korea.
The exit poll of about 89,000 voters at 330 polling stations jointly commissioned by three major television stations and released just after polls closed, showed Moon receiving 41.4 percent of the vote.
Exit polls in South Korea are forecasting a win by liberal candidate Moon Jae-in in an election to succeed ousted President Park Geun-hye.
Polls closed at 8 p.m., and official results are still hours away. But the exit poll jointly conducted by South Korea's three major television stations shows Moon winning with 41.4 percent of the votes cast in Tuesday's election. The poll says Moon's conservative rival Hong Joon-pyo will likely trail him with 23.3 percent support.
Such polls have a low margin of error but are merely a snapshot of the stated intentions of certain voters.
A win by Moon would end a decade of conservative rule in South Korea and could result in sharp departures from recent policy toward nuclear-armed North Korea. Moon has promoted engagement with the North.
South Korea's election body says nearly 64 percent of the country's 42.4 million eligible voters cast their ballots as of 3 p.m. Tuesday, representing a faster pace than the previous presidential election in 2012.
The National Election Commission's measurements on Tuesday included the 11 million who participated in last week's early voting, which was used for the first time in a presidential election.
The large number of people who cast their ballots early has been seen as a positive sign for front-runner Moon Jae-in.
South Korea's electorate is deeply divided along ideological and generational lines, and the strong early turnout was seen as being driven by younger voters, who are more likely to support the liberal Moon.
An NEC official projected the final voter turnout of around 80 percent, higher than the 75.8 percent of 2012. He says the winner of the election would be determined at around 2 to 3 a.m. Wednesday. He didn't want to be named, citing office rules.
A Japanese government official says his country is closely watching South Korea's presidential election and hopes to strengthen bilateral relations with the new leader.
Chief Cabinet Secretary Yoshihide Suga said the neighboring countries share common strategic interests.
He said Tuesday, "We believe Japan-South Korea cooperation on issues such as North Korean problem is indispensable for the peace and stability in our region."
Suga urged a new president to comply with the 2015 bilateral agreement aimed at resolving the longstanding "comfort women" dispute involving many Koreans and other women in Asia sexually abused at Japanese military brothels before and during World War II. The row persists over a statue built outside the Japanese consulate in Busan.
Conservative candidate Hong Joon-pyo has described South Korea's presidential election as a war between ideologies and accused his liberal rival Moon Jae-in of being aligned with North Korea.
Hong cast his vote in Seoul on Tuesday and later said the election was a "war of regime choices between people, whether they decide to accept a North Korea-sympathizing leftist government or a government that can protect the liberty of the Republic of Korea." That is South Korea's formal name.
Opinion surveys have shown Moon as the favorite.
Hong has pitched himself as a "strongman" who can hold his own against other "nationalist" leaders in Washington, Tokyo and Beijing. He also calls for the United States to bring back tactical nuclear weapons to South Korea after withdrawing them in the 1990s.
Liberal candidate Moon Jae-in has expressed confidence of winning office as South Koreans vote for a new president.
He cast his vote in Seoul on Tuesday and told reporters later, "I gave all my body and soul (to the election) to the very end."
Moon was favored in opinion surveys after the huge corruption scandal that led to President Park Geun-hye's ousting complicated politics for the conservatives.
The 64-year-old Moon thanked people who stood with him to bring change. He said he and his party "invested all our efforts with a sense of desperation, but we also felt a great desire by people to build a country we can be proud of again."
Park is jailed awaiting trial later this month on bribery, extortion and other corruption charges.