Iran Urges Joint Action to Tackle Regional Woes
TEHRAN (Tasnim) – Iranian President Hassan Rouhani reaffirmed the country's commitment to working in close cooperation with its neighbors, including the Persian Gulf states, stressing that concerted action, moderation, and dialogue would settle the regional crises.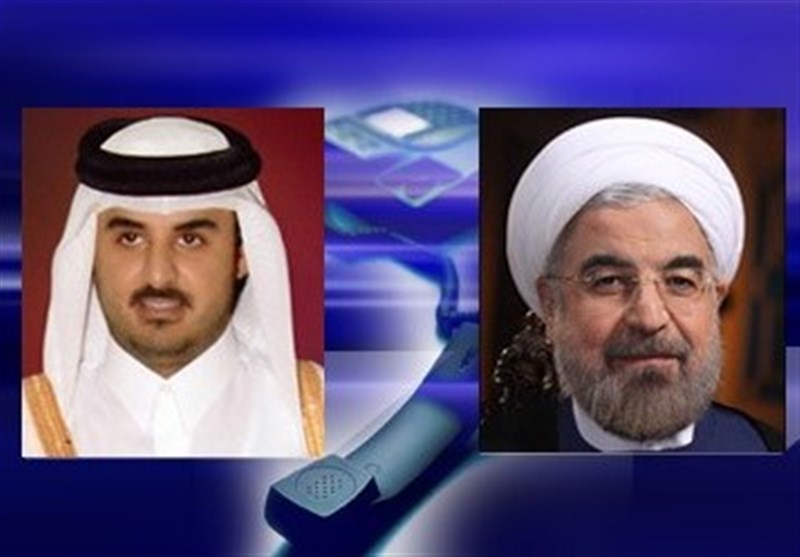 "One of the tenets of our foreign policy is to continue cooperation with the neighboring countries in the Persian Gulf (region)," President Rouhani said in a telephone conversation with Emir of Qatar Sheikh Tamim bin Hamad Al Thani on Saturday.
He also underlined that firm determination on part of Tehran and Doha would help remove the obstacles and strengthen the brotherly bonds.
Highlighting the integrated nature of stability and security in the region, President Rouhani said Iran wants "moderation and rationality" to prevail in the relations among regional countries, and stressed that "political solutions" should have priority in dealing with the problems.
Slamming sectarianism as a severe plague that upsets security in the region, the Iranian president added, "We want the Islamic world, which is suffering from division, to take steps towards peace and fraternity, and, in this regard, we are ready for negotiations to reach a real agreement."
He further deplored terrorism as a severe problem that has plagued the region, describing "mutual cooperation" as the remedy for the challenge that threatens security of all regional countries.
For his part, the Qatari leader congratulated President Rouhani on winning a second term, and voiced Doha's willingness to boost relations with Tehran, which he hailed as "age-old, historic, and strong."
Al Thani also described dialogue as the only way to resolve the problems, and called for the continuation of Kuwaiti-proposed talks between Iran and the Persian Gulf countries.
In January, Kuwait's foreign minister paid a visit to Tehran and delivered a message from the emir to the Iranian president, calling for dialogue between Iran and Persian Gulf Arab states.
Later, Iranian Foreign Minister Mohammad Javad Zarif said Tehran hoped the message would show that Persian Gulf states were willing "to resolve the issues".
Among the Persian Gulf Cooperation Council (PGCC) states, Iran has closer ties with Oman and Kuwait.