Anti-Government Protests Continue in Venezuela
TEHRAN (Tasnim) – Venezuelan security forces used water cannons and teargas to disperse tens of thousands of opposition protesters heading toward the foreign ministry on Wednesday.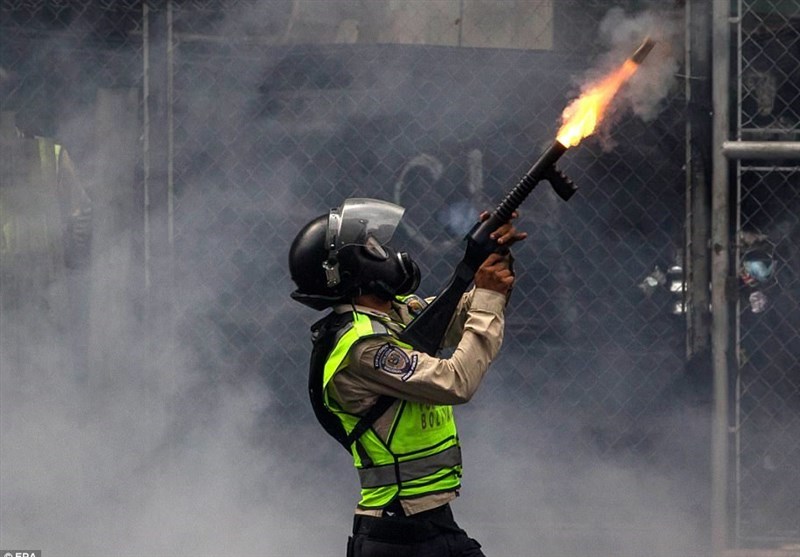 Two months of protests against President Nicolas Maduro's socialist government have convulsed the South American OPEC nation, with around 60 people killed in the unrest.
Opposition supporters demanding elections, freedom for jailed activists, and foreign humanitarian aid, marched onto Caracas' main highway aiming to reach the ministry downtown.
But as happens near daily with rallies trying to reach government offices, National Guard soldiers blocked their way and drove them back with volleys of gas and shoots of water, according to Reuters.
Masked youths hurled stones and Molotov cocktails in return.
With international pressure mounting on Maduro, foreign ministers from the 34-nation OAS bloc met in Washington to debate the situation in Venezuela.
"Our goal is to return to full respect for the rule of law, full respect for freedoms of political expression and participation," said Tom Shannon, the US State Department's undersecretary for political affairs, as a group of countries pressed for "urgent action" to ease the crisis.
When that meeting was announced last month, Venezuela said it was withdrawing from the OAS in protest. Allies, which include fellow leftist nations and small Caribbean islands that receive cheap Venezuelan oil, defended Maduro during the OAS session, saying foreign powers were meddling in Venezuela's internal affairs.
The meeting was adjourned after the Bahamas representative on behalf of the Caribbean Community (Caricom) proposed the meeting be suspended and that permanent representatives of the OAS meet again to continue to flesh out proposals.
Maduro, 54, says his opponents are seeking overthrow him with US support, similar to a short-lived 2002 coup against his popular predecessor Hugo Chavez.
He has called for the creation of a super-body, or constituent assembly, with powers to rewrite the constitution, in voting set for the end of July.