US Urges Persian Gulf Arab States to Address Differences
TEHRAN (Tasnim) - US Secretary of State Rex Tillerson Monday called on Persian Gulf Arab states to stay united and work out their differences after several nations cut diplomatic ties with Qatar.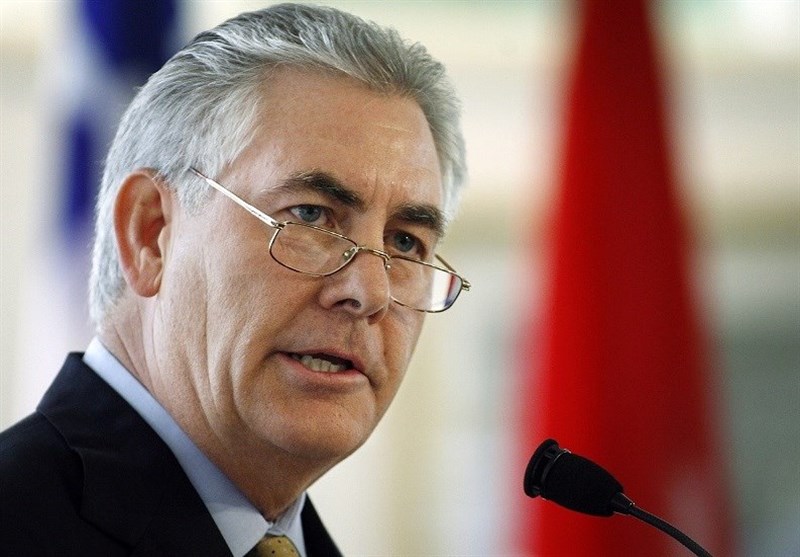 "We certainly would encourage the parties to sit down together and address these differences," he said in Sydney.
"If there's any role that we can play in terms of helping them address those, we think it is important that the (P) GCC ((Persian) Gulf Cooperation Council) remain united."
In the region's most serious diplomatic crisis in years, Qatar's Persian Gulf neighbors Saudi Arabia, Bahrain and the United Arab Emirates as well as Egypt all announced they were severing ties with gas-rich Qatar, AFP reported.
Riyadh cut diplomatic relations and closed borders with its neighbor to "protect its national security from the dangers of terrorism and extremism", the official Saudi Press Agency said.
A Saudi-led coalition which for more than two years has been involved in an aggression on Yemen separately announced Qatar was no longer welcome in the alliance, accusing it of supporting terrorist organizations.
Qatar had assigned warplanes to the coalition conducting air strikes against Yemeni people.
Tillerson said despite the impasse, he did not expect it to have "any significant impact, if any impact at all, on the unified fight against terrorism in the region or globally".
"All of those parties you mentioned have been quite unified in the fight against terrorism and the fight against Daesh (ISIL or ISIS), and have expressed that most recently in the summit in Riyadh," he added.
Less than a month ago, US President Donald Trump visited the region to cement ties with powerhouse Saudi Arabia -- the first foreign stop of his young presidency.