Iranians Attend Funeral Procession for Victims of Tehran Terror Attacks (+Videos, Photos)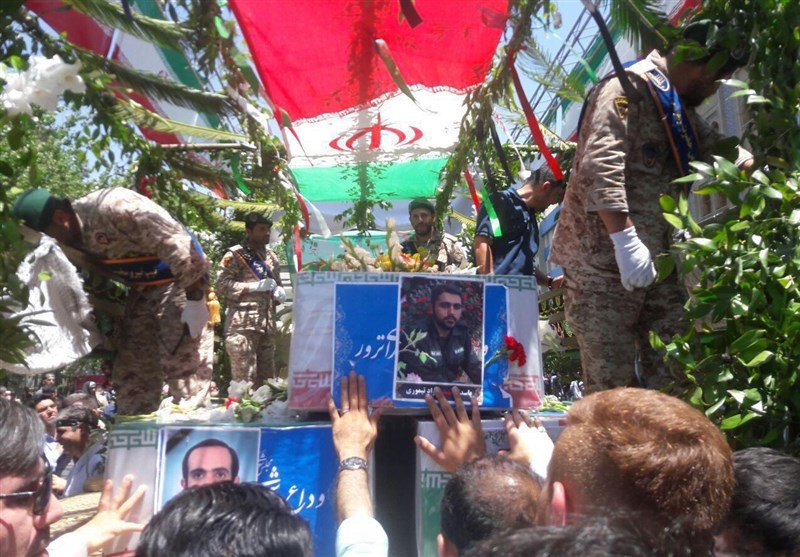 TEHRAN (Tasnim) – Iranian people from every walk of life participated in a funeral procession held on Friday for the martyrs killed in two recent terrorist attacks in the capital, Tehran.
During the funeral procession held in Tehran's Enghelab Street, the people paid tribute to the victims of the deadly terrorist attacks on the parliament building and on the mausoleum of the late founder of the Islamic Republic Imam Khomeini, south of the city.
The funeral procession held after the Friday Prayers at Tehran University campus in the capital.
The Iranian people also chanted slogans against Saudi Arabia, the US and Israel, whom they blame for supporting terrorism, including the Daesh (ISIL or ISIS) terrorist group.
Another procession ceremony had been held for the martyrs at a building of the Iranian parliament on Friday, which was attended by the heads of the three branches of government, namely Iranian President Hassan Rouhani, Parliament Speaker Ali Larijani, and Judiciary Chief Ayatollah Sadeq Amoli Larijani.
Other high-ranking officials, including Leader's Chief of Staff Hojatoleslam Mohammad Mohammadi Golpayegani, and a number of people from different walks of life, have also participated in the funeral procession.
Holding the pictures of their beloved ones, the families of the martyrs in the terrorist attacks also attended the ceremony.
On Wednesday morning, terrorists launched simultaneous attacks on Iran's parliament building in downtown Tehran and on the mausoleum of the late founder of the Islamic Republic Imam Khomeini.
The Daesh (ISIL) terrorist group claimed responsibility for the attacks, which killed 17 people and wounded more than 40.
The attacks have drawn widespread international condemnation.