Tehran Terrorist Attacks Mastermind Killed: Iran's Intelligence Minister
TEHRAN (Tasnim) – Iran's Intelligence Minister Mahmoud Alawi said the "mastermind" behind Wednesday's deadly attacks in Tehran that were claimed by Daesh (ISIS or ISIL) terrorist group, has been killed by the country's intelligence forces.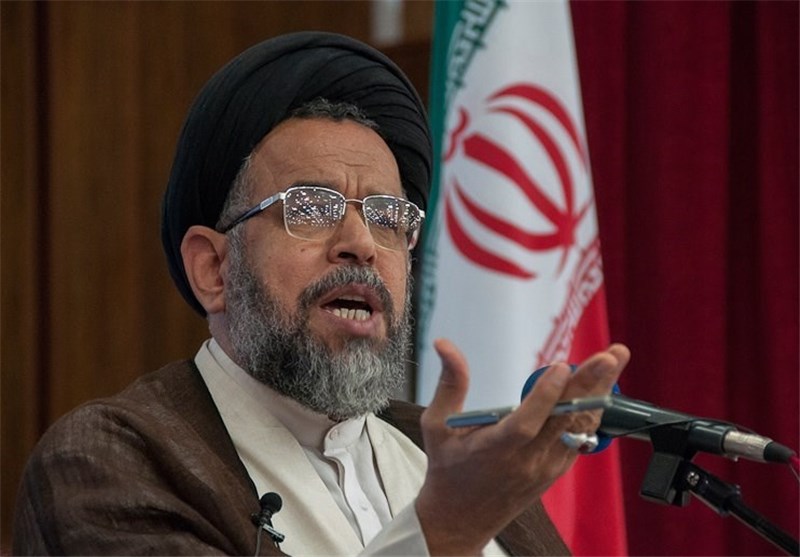 "The mastermind and main commander of terrorist attacks on the parliament and the mausoleum of Imam Khomeini was killed today by the intelligence forces," Alawi said in a televised program on Saturday night.
"…Following the malicious (terrorist) operations on Wednesday, we got a lot of clues," he said, adding that the country's intelligence forces had had a close watch on various terrorist cells but due to some considerations, the groups had not been smashed.
The intelligence minister added that however, 42 or 43 criminals have been arrested and their hideout was identified in the western province of Kermanshah.
He went on to say that the place where the five terrorists used for launching the terror attacks in Tehran was identified and attacked by security forces.
The individual who had commanded the terrorist attacks and had left the country was killed by the forces of the Intelligence Ministry and other friendly intelligence services on Saturday, the minister said.
On Thursday, the Intelligence Ministry released the pictures and first names of perpetrators of the attacks, identifying the five gunmen as Qayyoum, Abu Jihad, Ramin, Serias, and Fereydoun, without announcing their surnames.
According to the ministry's statement, the five attackers were terrorists with criminal backgrounds who were linked to "Wahhabi and Takfiri groups."
After joining the Daesh terrorist group, the five men had left Iran and were engaged in the terrorist group's operations in Iraq's Mosul and Syria's Raqqa, it added.
They had returned to Iran in August 2016 for a terrorist operation under the command of Abu Aysheh, a ranking commander of Daesh, with the purpose of carrying out attacks in Iran's religious cities and fled Iran after their cell was disbanded at the time and their ringleader was killed, the statement said.
On Wednesday morning, terrorists launched simultaneous attacks on Iran's parliament building in downtown Tehran and on the mausoleum of the late founder of the Islamic Republic Imam Khomeini.
Daesh terrorist group claimed responsibility for the attacks, which killed 17 people and wounded more than 40.
All five gunmen involved in the attacks were killed by the security forces.