Russian Opposition Leader Jailed for 30 Days after Protests
TEHRAN (Tasnim) - A prominent Russian opposition figure has been sentenced to 30 days behind bars hours after thousands of his supporters held large anti-government demonstrations nationwide.
Late on Monday, a Moscow court gave Alexei Navalny the jail term after finding him guilty of organizing unauthorized protests, his spokeswoman Kira Yarmysh said in a Twitter post.
Yulia, Navalny's wife, said Monday that he was arrested outside his home en route to the centerpiece demonstration on the Tverskaya Street in Moscow, Press TV reported.
Tverskaya, known in Soviet times as Gorky Street and one of Moscow's main thoroughfares, had been picked up by Navalny the location of a big protest rally on Monday. However, it was closed off to traffic earlier in the day for an extensive commemoration of the national holiday Russia Day.
Navalny said officials had even pressured contractors hired to build a stage at the venue to stop their work.
Police in Moscow also warned that they would be tough on any act of provocation during the Russia Day commemorations, saying any such act would be "a threat to public order and will be immediately suppressed."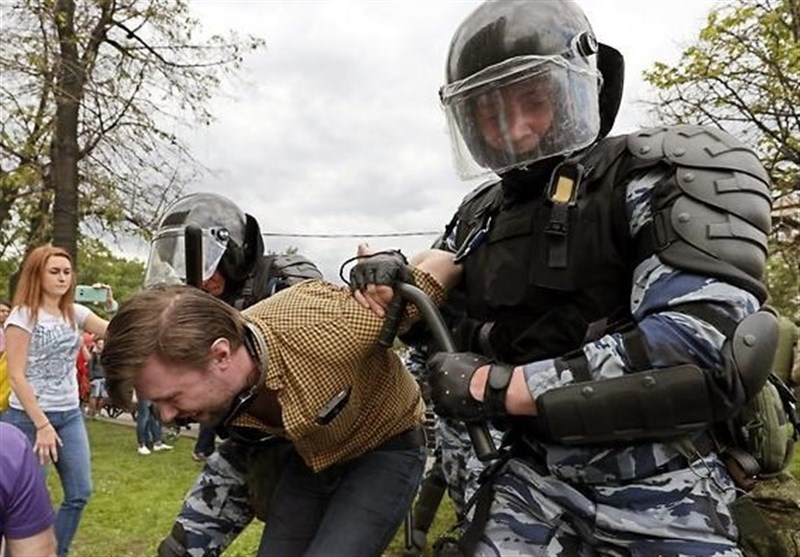 Other police sources said that the protests on Tverskaya would be tolerated as long as protesters did not carry placards or shout slogans.
Thousands of demonstrators on Monday marched in different cities across Russia to protest against corruption. Monday's rallies were the second mass action called by Navalny since March 26.
The OVD-Info rights group said more than 1,500 of Navalny's supporters had been arrested during the protests across the country, including 823 in Moscow and an estimated 600 others in Saint Petersburg.
A day after the demonstrations, the Kremlin denounced as a "provocation" the protests, claiming that young demonstrators, who had taken to the streets to protest against corruption and demand the resignation of Prime Minister Dmitry Medvedev, had been "promised financial rewards in the event of their detention by law enforcement agencies" during the protests.
Navalny is currently regarded as the most prominent opposition figure in Russia. He was briefly arrested along with some 1,000 people after protests in late March, which came following his allegations about corruption in the government.
He again made the headlines in April when an attacker doused his face with a green antiseptic liquid. The outspoken opposition leader has announced that he would run for the presidency in the 2018 election.