Grenfell Tower Anger Grows as Death Toll Could Soar above 100
TEHRAN (Tasnim) - A growing number of frantic families are desperately appealing for news about missing loved ones after the Grenfell Tower fire.
The streets around the high rise block in north Kensington were plastered with posters begging for information about those who were in the building.
More appeals were put up overnight on Thursday as relatives became increasingly distraught about their loved ones.
Dozens of residents have not been seen since the tragedy, many of them young families and children.
One appeal read: "Since a deadly fire broke out in their home in Latimer, no one has heard from 16 year old Nurhuda El-Wahabi, 21 year old Yasmin El-Wahabi and their family.
"They live on the 21st floor. Please spread this round and keep a look out for their family."
Another asked for information about "Amal and daughter" with a photo of a young woman with curly dark hair and a little girl, The Telegraph reported.
A whole family was reported missing on one poster, which said: "The Choucair family is missing in the Grenfell Tower fire. They lived on the 22nd floor, in flat 193."
The family was named as mother Nadia Choucair and daughters Mierna, 13, Fatima, 11, and Zeinab, three.
"Fathia Alsanonse MISSING. People still can't get through to her. Please keep an eye out," another said, next to a picture of a smiling woman.
One simply said: "Missing: Marjorie Vital" with a picture of a woman in a white hat.
Smoke could be seen billowing from the charred remains on Thursday and pockets of flames were still burning on
London Fire Brigade has described support given to its staff following the tragic Grenfell Tower fire as "overwhelming".
More than 200 firefighters were called to the blaze in the early hours of Wednesday and commissioner Dany Cotton said crews would remain at the scene for many days.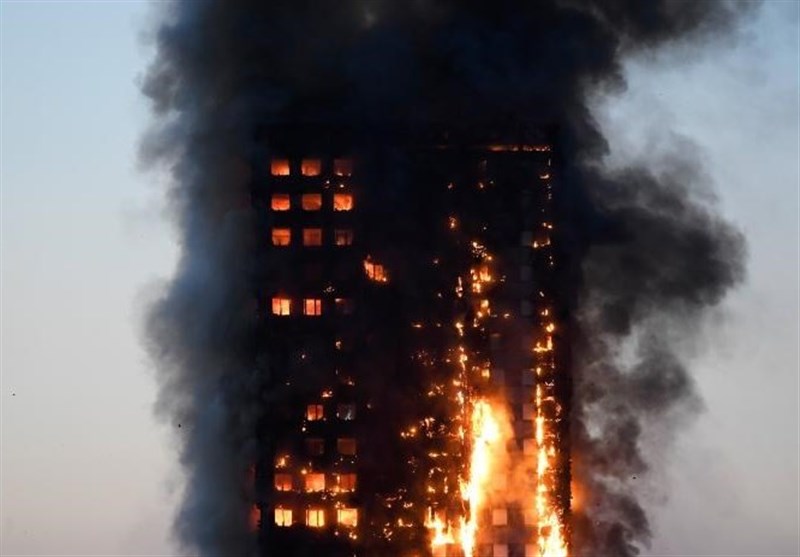 Search and rescue dogs have been used on the site in west London as investigations and searches continue.
The service shared a picture on social media of a card which had been handed to crews in north Kensington.
Written by someone called Derin to all the emergency services, the card said: "Thank you all by saving people's lives."
Prime Minister Theresa May is facing more criticism for failing to meet survivors of the Grenfell Tower fire tragedy when she visited the scene of the blaze.
Mrs. May met police and firefighters dealing with the aftermath of the disaster during a private visit to the west London site, but unlike Labor leader Jeremy Corbyn and London Mayor Sadiq Khan, she was not seen to speak to families and residents.
Downing Street aides said that the purpose of Mrs. May's visit was to get a briefing from emergency services and ensure that they had the resources they needed.
She later appeared on TV to announce a public inquiry into the fire and promise that those left homeless would be rehoused nearby.
But former cabinet minister Michael Portillo said the Prime Minister "didn't use her humanity".
He told BBC's This Week: "She met in private with the emergency services, a good thing to do no doubt, but she should have been there with the residents, which is what Jeremy Corbyn was.
"She wanted an entirely controlled situation in which she didn't use her humanity.
"The Prime Minister would have been shouted at by the residents, but she should have been willing to take that."
People are planning a rally in Westminster on Friday night to call for "justice" for those caught up in the Grenfell Tower fire.
A Facebook event, Justice for Grenfell!, has been listed as taking place at 6pm on Friday outside the Department for Communities and Local Government in Marsham Street, with more than 1,800 people said to be attending.
The posting said: "At least 12 people have died in the fire at Grenfell Tower. They deserve justice. We demand answers. Solidarity with the residents of Grenfell Tower."
Good morning and welcome to our continuing live coverage of the fallout following the Grenfell Tower blaze.
Grief and sorrow at the inferno have given way to anger as residents of the gutted block demanded answers over the litany of failings that led to the disaster, reports Hayley Dixon, Sarah Knapton and Steven Swinford.
As fears mounted that the death toll could rise above 100, senior politicians who visited the scene were asked to explain why a series of loopholes had left the inhabitants vulnerable, despite repeated warnings over the last 30 years.
It emerged that there have been no updates to Britain's building fire safety regulations for more than a decade, even though a number of fires abroad suggested they are out of date.
Particular concerns have been raised about the cladding on the outside of buildings for a number of years, which experts say may have accelerated the inferno which consumed the 24-storey Kensington block in just 15 minutes.
It has since emerged that the United States had banned the type of cladding thought to have been used on Grenfell Tower.
The material used on Grenfell Tower was sold under the brand Reynobond which comes in three different varieties: one with a flammable plastic core and two with fire-resistant cores and the cheaper, more combustible, version was banned in the United States in buildings taller than 40 feet.
It is thought that Grenfell's exterior cladding, added in 2015, had a polyethylene - or plastic - core but conforms to UK standards.
Reynobond's fire-resistant panel sells for £24 per square meter; £2 more expensive than the standard version.
Theresa May has ordered a public inquiry into the fire as she promised that all residents would be rehoused locally.
It came as police admitted that the death toll could reach 100 and senior officers conceded the true scale of the disaster may never be known.
Mrs. May said: "We need to know what happened; we need to have an explanation of this, we owe that to the families. To the people who have lost loved ones, friends, and the homes in which they lived."
However she faced criticism over why she didn't meet residents when she visited the scene and instead attended a briefing with emergency services. She later defended her actions, saying: "I wanted a briefing from the emergency services."
Sadiq Khan, the Mayor of London, was heckled by residents as he praised the emergency services. He tried to shake the hand of seven-year-old Kai Ramos, who instead asked: "How many children died? What are you going to do about it?"
In contrast Jeremy Corbyn, the Labor Leader, hugged relatives of the missing as at the scene and called for the empty homes of rich people in Kensington to be seized for residents made homeless by the fire.
Mrs. May is struggling to recover her authority and form a Government in the wake of the Conservative's disastrous election performance. Nick Robinson, the BBC presenter, suggested that the fire represented the "biggest political risk" facing the Prime Minister and compared it to the situation George Bush Jnr faced in the aftermath of Hurricane Katerina.
John McDonnell, the shadow Chancellor, urged the unions to mobilize more than a million protestors to put pressure on Mrs. May to stand down in a march on July 1.
Lily Allen said: "I think there's a lot of anger here towards the council, how they've dealt with people concerns building up to this event and how they have dealt with things after the event as well."
The singer added that the humanitarian effort was being led by community leaders rather than the council, saying: "It is chaotic, they don't have any experience of it and I think it's actually playing into the hands of the Government because once these people's hope turns to anger, they have got a real problem on their hands.
"I feel like the Government is trying to micromanage people's grieving here."
Sky News suggested that "political opportunists" could be among the crowds at the scene after a press conference was punctuated by residents shouting support for Mr. Corbyn. The public anger was fuelled by an emerging picture of failings surrounding the safety in the building, including allegations that fire doors had not been fitted, which the police and fire brigade said would form part of their investigation.
Two separate sources have told The Telegraph that not all the front doors in the tower block were fire-proofed. This is hugely significant because official fire brigade advice to stay put in the event of a fire is based on fire doors offering protection to residents told not to leave the building.
Sidani Atmani, 41, said his neighbor on the 15th floor, a man he knew as Stephen, died because he had followed fire brigade instructions to stay in his flat.
"A lot of people died because of what they were told to do," he said. "It was horrible."
If there were a lack of fire doors that might also help to explain why the fire spread so rapidly through the building rather than being 'compartmentalized'. RBKC declined to comment as did the management company.
Information released by Kensington and Chelsea Council under a previous Freedom of Information request also suggests that Grenfell tower may not have had a full Fire Risk Assessment since December 2015, despite undergoing a full refurbishment completed in May last year.
Experts have been raising concerns for the last 30 years that building regulations concerning fire are not sufficient, especially surrounding fire escapes and the use of cladding to make buildings more energy efficient.
Until 1986 all buildings in London fell under the London Building Acts which ensured that external walls must have at least one hour of fire resistance to prevent flames from spreading between flats or entering inside.
But that stipulation was scrapped and from the mid-80s materials on outer walls did not have to be non-combustible, allowing builders to start installing dangerous cladding despite warnings from fire safety chiefs.
Nearly 20 years ago, following a fire at a tower block in Irvine in Ayrshire, MPs were warned by the Fire Safety Development Group that cladding can: 'contribute to the fire, release toxic chemicals and drip plastic on people trying to fight the fire.'
Ronnie King, secretary of the All-Party Parliamentary Group Fire Safety & Rescue Group said: "We have been saying for years that the regulations need to be changed. But there has been no effort to improve anything because everyone believes there is less fire nowadays, so there was no will. Why would you increase the burden of regulation?
"There hasn't been a review for 11 years, and since then we have had significant fires both in Britain and abroad, which have been caused by new building materials and lack of risk assessments.
"Not only has the government not completed a review as we asked they haven't even started one." Nick Hurd, the fire minister, said that the judge-led public inquiry will leave "no stone unturned".
Those questioned could include Gavin Barwell, Mrs. May's chief of staff, who has been accused of "sitting on" a review into building regulations in the wake of previous tower fires in 2009.