Iran Urges Dialogue for Resolution of Int'l Conflicts
TEHRAN (Tasnim) – Iranian President Hassan Rouhani called on independent nations to join hands and make concerted efforts for resolution of international conflicts through dialogue.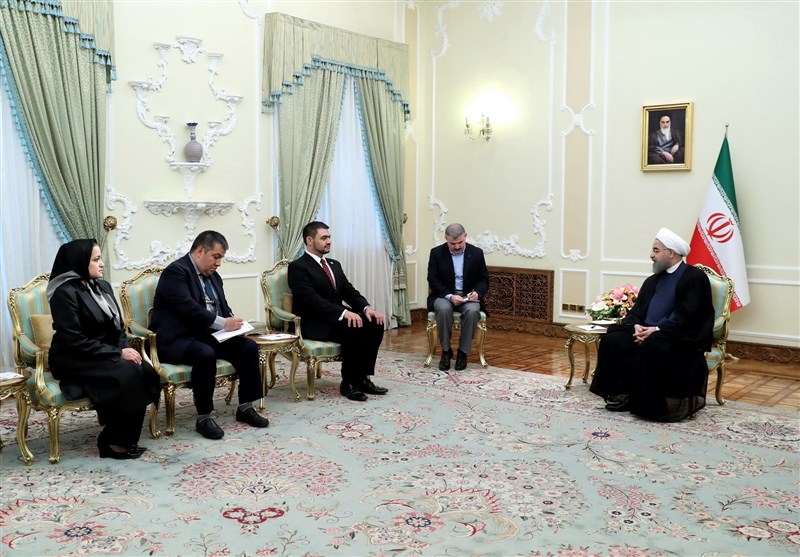 "From the viewpoint of the Islamic Republic of Iran, dialogue and political consultations are the solution to international problems," President Rouhani said in a meeting with Mexico's new ambassador to Iran, held in Tehran on Tuesday.
He also proposed that Iran, Mexico and other countries with common views on dialogue should form a united front in the international arena.
Tehran and Mexico City share stances on international issues, the president added, emphasizing that the "big powers" should stop interference in the internal affairs of independent states.
President Rouhani also called for efforts to enhance economic cooperation between Iran and Mexico, particularly with the removal of sanctions under the Joint Comprehensive Plan of Action (JCPOA), a nuclear agreement between Iran and the Group 5+1 (Russia, China, the US, Britain, France and Germany).
For his part, Jose Alfonso Zegbe Camarena voiced Mexico's willingness to broaden relations with Iran.
Highlighting the widespread cultural interaction between the two nations, the envoy said he will try to enhance political, economic and trade ties with Iran.
In September, Iranian Foreign Minister Mohammad Javad Zarif paid a visit to Mexico with a high-ranking diplomatic delegation.
During his stay in Mexico City, the senior Iranian diplomat met Mexican officials for talks on a range of issues, from closer bilateral trade ties to cooperation in the fight against narcotics.
President Rouhani's first term marked a progress in Iran's relations with countries in the Americas.
In June 2015, Mexican Secretary of Labor and Social Welfare Alfonso Navarrete Prida traveled to Tehran to become the first Mexican cabinet minister to pay a visit to Iran in over a decade.