Iranians Attend Mass Rallies to Mark International Quds Day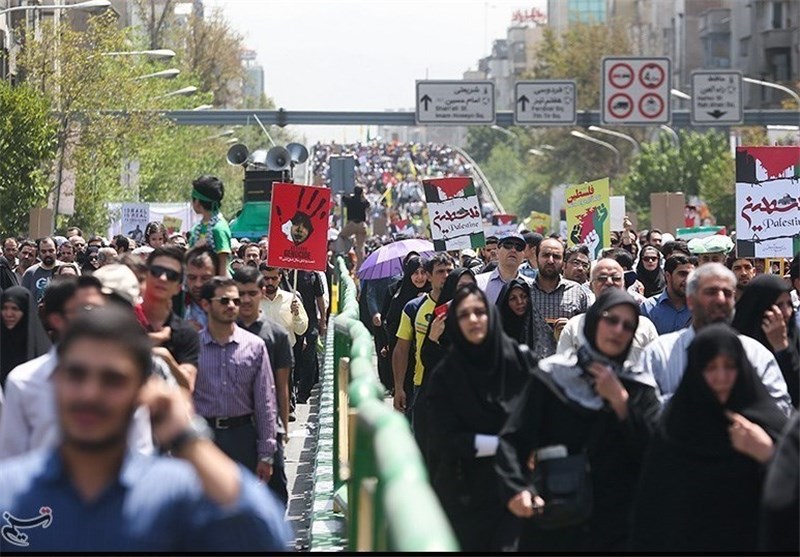 TEHRAN (Tasnim) – Iranian people held massive rallies across the country on Friday morning to mark the International Quds Day, an annual display of solidarity with Palestinians and condemnation of the Israeli and US crimes and policies.
Millions of fasting Iranian people from different walks of life have poured into the streets to join the nationwide demonstrations in support of Palestinians, who have been suffering from Israel's atrocities for decades.
Chanting slogans against the Tel Aviv regime and its allies, demonstrators called for an end to the Israeli occupation of Palestine, Judaization of the holy city of al-Quds and construction of Israeli settlements across the West Bank.
Carrying placards and chanting slogans against Israel and the US, the marchers also voiced support for the Islamic Republic's sovereignty and the country's defense programs.
Many Iranian officials and prominent figures have joined the demonstrations in various cities.
More than 4,000 Iranian and foreign reporters are covering the rallies across the country.
In capital Tehran, the rallies are organized in ten different routes ending at the University of Tehran, where worshippers will attend the Friday prayers.
Before the weekly religious event, in which Iranian Parliament Speaker Ali Larijani is going to deliver a speech, the communiqué of the International Quds Day will be released.
The Friday prayers will be led by Ayatollah Seyed Ahmad Khatami.
Each year, the International Quds Day is celebrated on the last Friday of the Islamic holy month of Ramadan.
The event's raison d'être is renewing support for the Palestinians and denunciation of Israel.
The day is also seen as the legacy of the late founder of the Islamic Republic of Iran, Imam Khomeini, who officially declared the last Friday of the holy month of Ramadan as International Quds Day back in 1979.
In comments on Wednesday, Leader of the Islamic Revolution Ayatollah Seyed Ali Khamenei described the International Quds Day as "the symbol of fighting Arrogance and global hegemons".
"The commemoration of Quds Day does not merely mean defending an oppressed nation who have been driven out of their motherland and homes, but defending Palestine today is defending a reality much greater than the issue of Palestine," the Leader noted.