Int'l 'Trumpism' Cartoon Exhibition Underway in Iran
TEHRAN (Tasnim) – Iran is playing host to an international cartoon exhibition titled "Trumpism" in Tehran to highlight US President Donald Trump's racist and interventionist policies both at home and abroad.
The exhibition, which opened Monday following a cartoon contest and will last one week, includes the works of 1,614 Iranian and foreign participants from 74 countries, including four works from American cartoonists.
Iranian cartoonist Hadi Asadi won the first prize in the cartoon contest and was awarded $1,500. His drawing shows Trump wearing a jacket made of dollar notes while drooling on books as symbols of culture.
Asadi said he wanted to highlight the "money-mindedness and warmonger nature" of the US president.
American Robert Jones Clayton's cartoon shows the cover photo of two copies of Time magazine, one with Trump's picture and the other with Adolf Hitler. Both men are portrayed as Time's Person of the Year and Trump tells Hitler: "It is a great honor" and in return Hitler replies "Ja."
American Ed Wexler's work shows Trump saying "Fake news" while running away from a snowball, on which a red star with a hammer and sickle emblem is seen, a reference to Russian connections to Trump.
Contest organizer Masoud Shojaei Tabatabaei said the aim of the contest and exhibition is to show wrong behaviors by Trump in the framework of satirical portraits. Trump and violence against women, media as well as building walls were among the themes of the contest.
The logo for the competition is based on the Nazi emblem, depicting a diagonal "T" in a white circle against a red background, according to Press TV.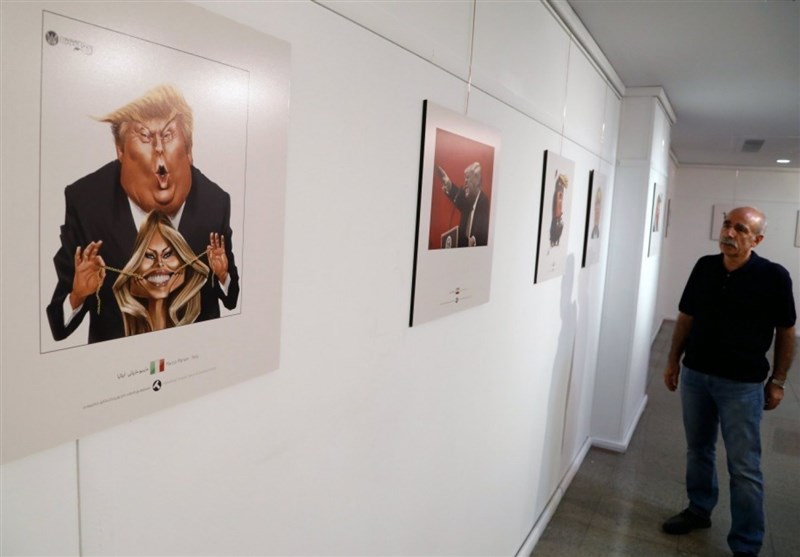 Ali Asghar Jafari, the competition's director, said the US has inflicted many wounds on Iran over the past years while it claims to advocate human rights.
"Today, the US is moving against Muslim countries, especially Iran," he said, adding, "It was difficult to prove US brutality in the past, but Trump's presence has made it easy."