Venezuela's Street Unrest Enters 100th Day
TEHRAN (Tasnim) - Venezuela has marked the 100th day of protests with pro and anti-government demonstrators marching in the capital city of Caracas.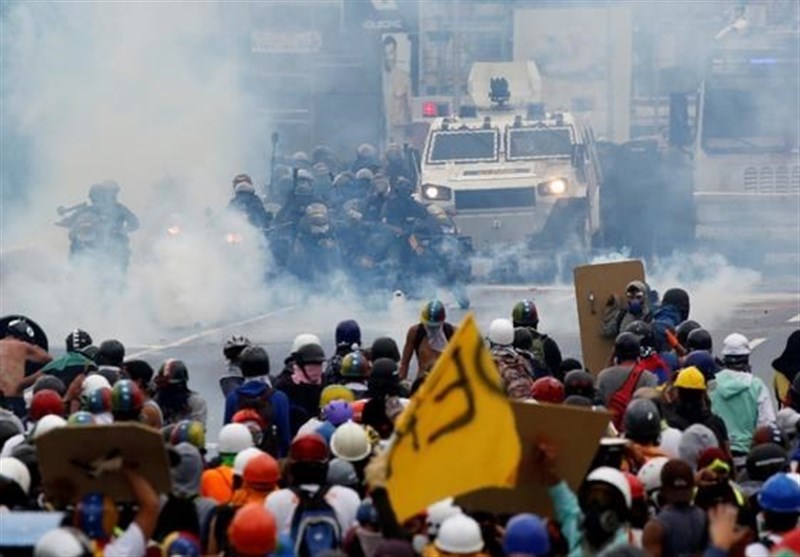 On Sunday, around 2,000 people took part in a protest in the capital's eastern side wearing t-shirts with pictures of prominent political prisoner Leopoldo Lopez, who was placed under house arrest after being freed from jail.
"I maintain my firm opposition to this regime," said Lopez in a statement read by a member of his party political party the Voluntad Popular (Popular Will). "I reiterate my commitment to fighting until Venezuela's freedom is won," he added, Press TV reported.
The protesters were also carrying banners reading, "One hundred days and I continue to rebel against tyranny."
Meanwhile, a counter rally was held in the center of the city with the presence of thousands of pro-government demonstrators wearing red t-shirts in the color of the "Chavista" movement.
Venezuela has been the scene of anti-government protests for more than two months. Clashes between security forces and anti-government protesters have left over 91 people dead and over 1,300 wounded.
Unrest in Venezuela was aggravated in early April after the Supreme Court decided to annul the powers of the opposition-controlled parliament. The move was regarded as a violation of the country's constitution. The decision was later revoked, but protests have only continued.