Exclusive: Russian Diplomat Deplores US Noncompliance with Requirements of JCPOA
TEHRAN (Tasnim) – Russian Deputy Foreign Minister Sergei Ryabkov criticized the US record in its compliance with the requirements of a nuclear agreement concluded between Iran and six world powers in July 2015.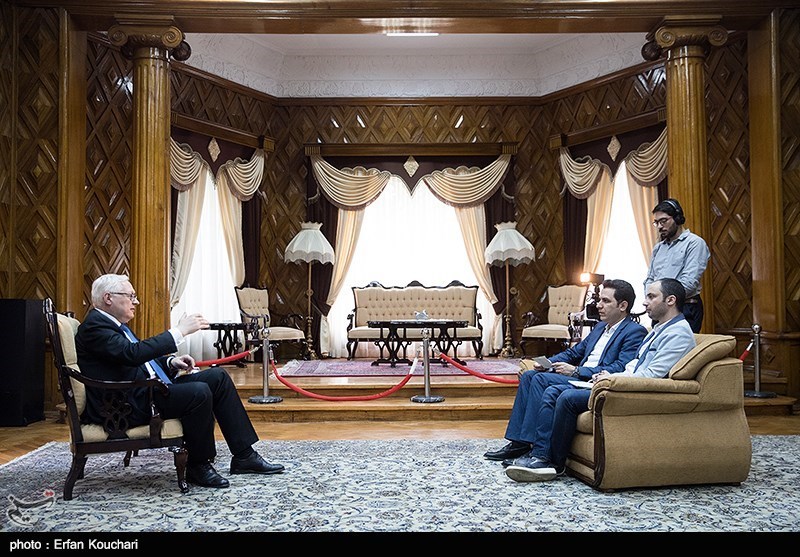 "We agree basically with Iranian point that the US not only underperforms during the whole period of JCPOA (Joint Comprehensive Plan of Action) implementation, but we believe and we see signs of US acting in contradiction and in contravening the requirements of the JCPOA," Ryabkov said in an exclusive interview with the Tasnim News Agency in Tehran on Tuesday.
"That is an action or lack of action that constitutes what I would describe an noncompliance with the requirements of the JCPOA," he noted, answering to a question about Iranian Foreign Minister Mohammad Javad Zarif's letter to EU Foreign Policy Chief Federica Mogherini about violation of Iran nuclear deal by the US.
As regards the US policy of imposing sanctions and restrictions on the Islamic Republic, he said, "We see a continuous policy of deterrence on the part of the US towards economic and financial operators around the globe."
"That means they (those operators) are either precluded from normal and positive cooperation with Iranian counterparts or are frightened by the possible negative consequences of doing such business with Iranian counterparts just because the US controls that much of the international financial and banking system and (accordingly) would be able, in a given situation, to punish these operators for what we and the Iranian side believe are fully logical and legitimate transactional cooperative relationship."
The Russisan diplomat further reminded the US three moves to expand sanctions lists against individuals and entities from Iran and third countries for so called cooperation with Iranian side on the country's missile program.