Syria Eyes Closer Economic Ties with Iran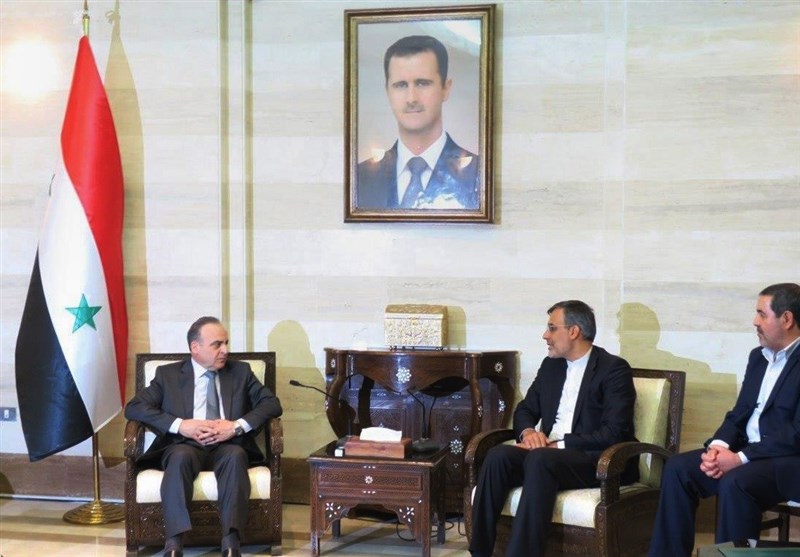 TEHRAN (Tasnim) – Syrian Prime Minister Imad Khamis praised Iran for the support it has given to Syria, calling for the enhancement of economic relations between Damascus and Tehran.
In a meeting in Damascus on Wednesday, the Syrian prime minister and Iran's Deputy Foreign Minister for Arab and African Affairs Hossein Jaberi Ansari discussed a range of issues, such as the latest regional developments and Iran-Syria cooperation in various fields.
Stressing the need for the promotion of economic ties between the two countries, Khamis expressed the hope that Iranian First Vice-President Eshaq Jahangiri would take up an invitation to visit Syria soon, so that the two sides would pursue plans for broader economic interaction.
For his part, the Iranian diplomat hailed the "strategic ties" between Tehran and Damascus, calling for the implementation of the economic agreements the two sides have already signed.
In a separate meeting earlier in the day, Jaberi Ansari held talks with Syrian Foreign Minister Walid Muallem to discuss the most recent regional and international developments.
Their talks were focused on the diplomatic efforts to settle the crisis in Syria within the framework of the Astana and Geneva talks.
Syria has been gripped by civil war since March 2011 with various terrorist groups, including Daesh (ISIL), currently controlling parts of it.
According to a report by the Syrian Center for Policy Research, the conflict has claimed the lives of over 470,000 people, injured 1.9 million others, and displaced nearly half of the country's pre-war population of about 23 million within or beyond its borders.
In the meantime, Iran has remained a close ally of Syria and supports its legitimate government in the face of foreign-backed militancy.
Tehran insists that the Syrian nation is the only side that has the right to shape the future of its own country, rejecting foreign intervention with the use of force.