Iran's Zarif Arrives in Turkey, Meets Counterpart in Istanbul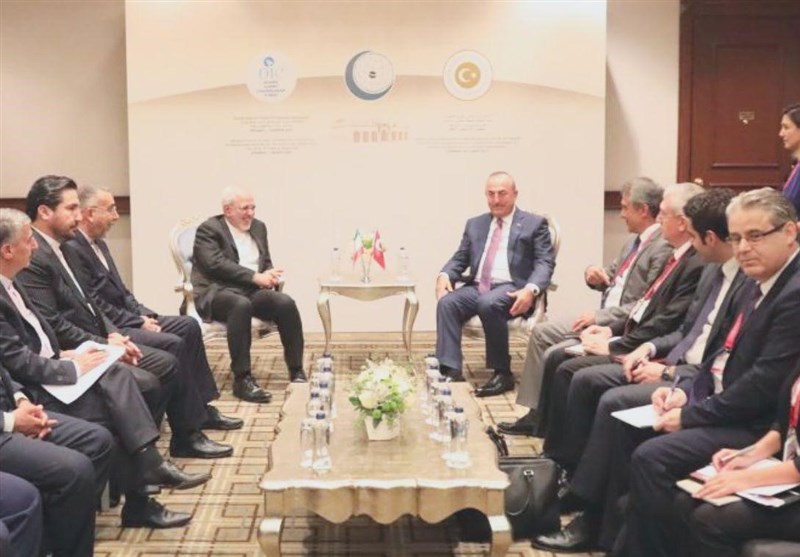 TEHRAN (Tasnim) – Iranian Foreign Minister Mohammad Javad Zarif, who is on an official visit to neighboring Turkey, held talks with his counterpart, Mevlut Cavusoglu, on Tuesday on a range of issues, including ways to boost Tehran-Ankara ties in all areas.
Heading a high-ranking delegation, Zarif arrived in the Turkish city of Istanbul this morning to attend an emergency meeting of the Organization of the Islamic Cooperation (OIC) on ongoing developments in the holy city of al-Quds (Jerusalem).
On the sidelines of the meeting, the Iranian top diplomat and Cavusoglu discussed the latest regional developments as well as efforts to promote bilateral relations between the two countries.
Zarif plans to voice Iran's stance on recent Israeli crimes against Palestinians in the emergency meeting of the OIC.
Several Palestinians have been killed and hundreds more injured in recent weeks amid mass protests over new Israeli security measures at the al-Aqsa Mosque compound.
Muslims refused to hold prayers at the mosque and prayed in the streets around the Old City for almost two weeks after Israel installed security equipment, including metal detectors and cameras, at the sacred compound following a deadly shooting incident there on July 14.
The occupied Palestinian territories have witnessed new tensions ever since Israeli forces introduced restrictions on the entry of Palestinian worshipers into the compound in East al-Quds in August 2015.
More than 300 Palestinians have lost their lives at the hands of Israeli forces in the ongoing tensions since the beginning of October 2015.