Venezuela: US-Backed Rightists Versus Ruling Leftists
TEHRAN (Tasnim) – While the US has shown a strong support for the right-wing minority in Venezuela, leftist ruling party is resisting the US and its regional, international and domestic allies.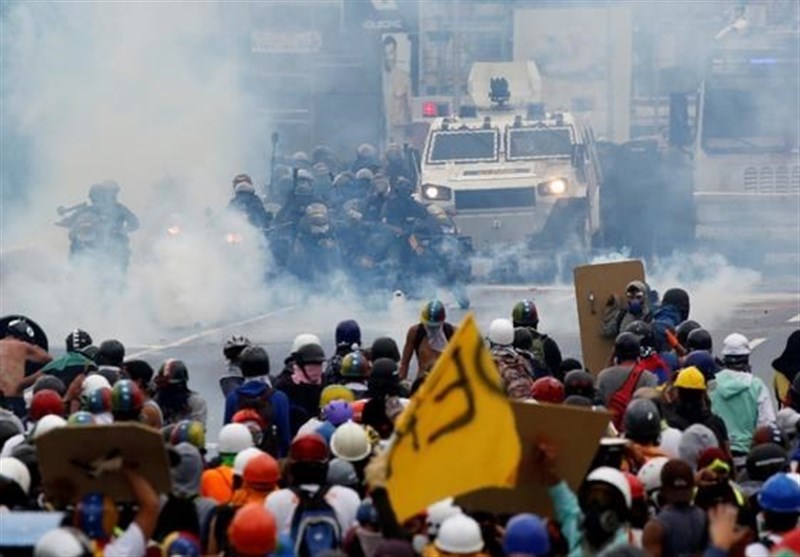 Venezuela has been a pioneer of fighting colonial powers historically and it was the base of leftist movements in the Latin America.
Simón Bolívar, an early 19th-century Venezuelan and Latin American revolutionary leader who fought Spanish colonialism for several years is recognized as a hero in most South American countries and has inspiring role in shaping politics in Venezuela.
Inspired by Bolivar, former Venezuelan president Hugo Chavez revived the Bolivarian Revolution in Venezuela by founding the United Socialist Party of Venezuela.
After Chavez death, Nicolas Maduro took the leadership and resisted the US pressures, sanctions and interventions till now.
Maduro was not lucky and it took office in the midst of a severe economic downturn caused by low oil prices. Government and the state-owned oil company PDVSA is trying to raise money by selling bonds.
The economic crisis has turned into protests and a political crisis. People are starving, and the Venezuelan government cannot get the food or medicine people need.
The right wing parties provoked by Washington used the situation to defeat the leftists in their traditional base, Venezuela.
The right wing parties provoked demonstrations across Venezuela and turned the Constituent Assembly elections on 30 July 2017 into a political crisis in the Latin American country.
Despite the fact that Maduro called the July 30 vote to rewrite Venezuela's constitution a success but it turned into a social turmoil in which over hundred people died in street conflicts.
At the same time, the constitutional assembly said it would debate a proposal to push up to October elections for governors in all of Venezuela's states. It's a possible sign that the government is looking to negotiate a deal with the opposition, if the US do not intervene and lets the Venezuelan people to decide their future.
US Threatening Rhetoric
In line with the pressures from the write-wing inside Venezuela, the US and their allies pressured the country by cutting diplomatic ties, imposed crippling sanctions and even threatened the country with foreign military intervention.
The US President Donald Trump has recently alarmed Venezuela with talk of a 'Military Option'.
In reaction, the Venezuelan Defense Minister Vladimir Padrino López said late Friday that "I as a soldier, together with the Bolivarian National Armed Forces and with the people, am sure that we will all be in the front row, defending the interests and sovereignty of our cherished and beloved Venezuela."
This reaction from Venezuelan defense minister brings to mind the Venezuela revolution slogan that "Socialist motherland and victory, we will live, and we will come out victorious."
Reaction in Latin America
US allies are also growing pressure on Maduro government and Peru expelled Venezuela ambassador on Friday on accusation of allegedly trampling this country's constitutional order.
Peru's administration also refused to accept a diplomatic protest made by Maduro over Peru this week hosting foreign ministers from 17 regional nations who refused to recognize the new, loyalist-packed special assembly that is to rewrite the constitution.
The meeting in Lima came as the regional ALBA bloc, which includes Venezuela's leftist allies in Latin America including Nicaragua, Bolivia, Ecuador and Cuba, expressed support for Maduro in a meeting in Caracas.
Reaction in Latin America has been far more subdued, reflecting long-held reluctance by much of the region to encroach on a neighbor's sovereignty and some lingering ideological affinity for the anti-imperialist revolution started by the late Hugo Chavez. Several attempts to punish Venezuela at the Organization of American States have failed due to a lack of consensus.
Peruvian President Pedro Pablo Kuczynski has been until recently a lonely exception in openly condemning Maduro.