Spain Terror Attacks: 13 Killed, 100 Injured in Barcelona, Cambrils
TEHRAN (Tasnim) - Spanish police say they have killed five suspected terrorists in the town of Cambrils to stop a vehicle attack, after an earlier one in Barcelona.
The men, wearing explosive belts, were linked to the first attack.
Thirteen people died and dozens were hurt when a van hit crowds on Las Ramblas, Barcelona on Thursday. The driver fled and is still at large, while a police manhunt for him continues.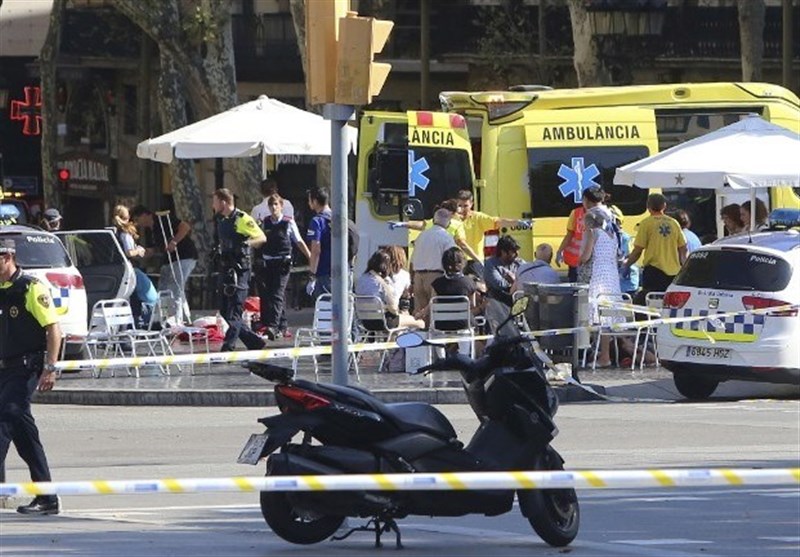 Citizens from 24 countries are among the 13 killed and 100 wounded in the attack in Las Ramblas, Catalan officials said.
The second terror attack took place in Cambrils, a coastal town around 120km from Barcelona. Six bystanders and one police officer were injured – two seriously – when they were reportedly deliberately hit by a car.
Police officers then shot dead five suspects, some of whom were wearing what appeared to be explosive belts.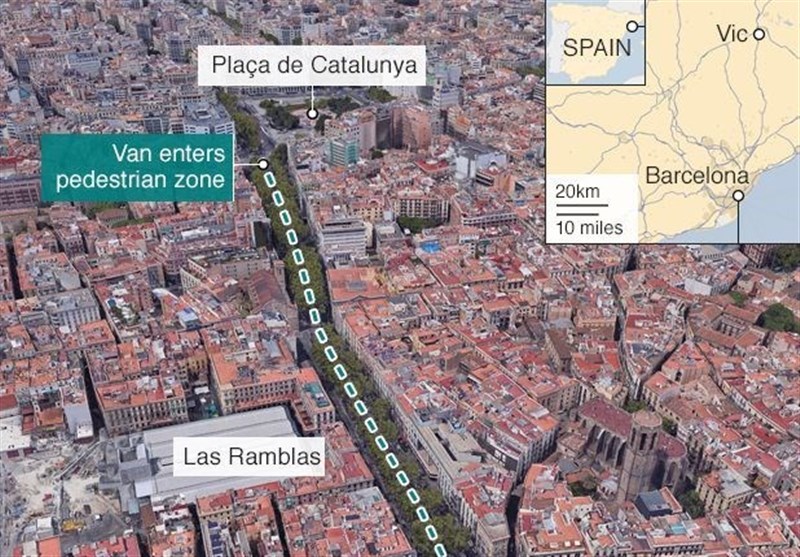 Officials are also linking the two attacks to an earlier explosion that destroyed a house in Alcanar, killing one person and wounding at least one more. Police now say they believe explosives were being prepared at the property.
Alcanar is around 200km from Barcelona and 90km from Cambrils.
Meantime, BBC reported the timeline of events as follows:
Alcanar, Wednesday evening: An explosion rips through a house in the small town, 200km south of Barcelona. One person dies. Police chief Josep Lluis Trapero said it appeared the residents at the house had been "preparing an explosive device". The incident is linked to Las Ramblas, police say.
Barcelona, Thursday 16:50 (14:50 GMT): A white Fiat van drives down Las Ramblas in central Barcelona, killing 13 people and injuring scores. The driver flees on foot.
Vic, Thursday 18:30: Police find a second van, thought to be a getaway vehicle, in the town, 80km north of Barcelona.
Sant Just Desvern, 19:30: Police shoot dead a man who drives into officers at a checkpoint on the outskirts of Barcelona, but the authorities say there is no evidence he is connected to the attack in Las Ramblas.
Cambrils, Friday 01:00: Police stop a second vehicle attack in the resort south of Barcelona, killing five terrorist suspects said to be linked to the Las Ramblas attack.
Two people were detained on Thursday over the Las Ramblas attack, but not the driver of the van.
One of those held is Driss Oubakir, whose documents were used to rent the van.
Local media say he is in his 20s, and was born in Morocco. However, latest reports suggest he has told police he was not involved, and that his documents were stolen.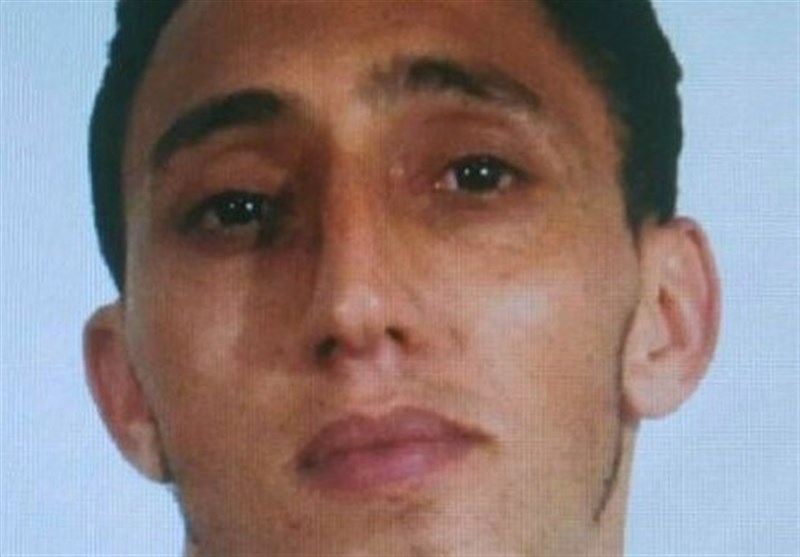 Daesh (ISIL) terrorist group has said it was behind the Las Ramblas attack, saying in a brief statement carried by its Amaq news agency that it was carried out by Daesh "soldiers". The group gave no further evidence or details to back this claim.