US Forces Fearful of Confrontation with IRGC in Persian Gulf: Commander
September, 23, 2017 - 15:19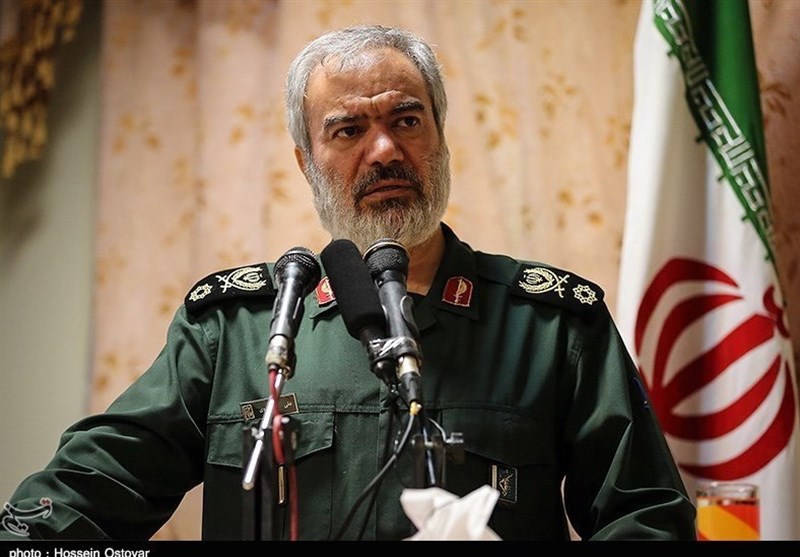 TEHRAN (Tasnim) – Islamic Revolution Guards Corps (IRGC) Navy Commander Rear Admiral Ali Fadavi highlighted his forces' military might and said even US commanders panic about any confrontation with the IRGC forces in the Persian Gulf.
"Their (US's) commanders and military experts have acknowledged the power and dominance of the Islamic Republic of Iran during the years that we have been at the closest possible distance with them," Rear Admiral Fadavi said on Saturday.
"With a perception of our strength and ability, they are afraid of having a presence in the Persian Gulf and Strait of Hormuz and confronting the deterrent power of the Islamic Republic of Iran," he added.
He further pointed to US President Donald Trump's recent anti-Tehran remarks and said Washington's frustration and anger over the growing power of the Islamic Republic and the failure of US plots in the Middle East have made him talk nonsense.
The comments came in response to Trump, who claimed during his first address to a session of the UN General Assembly that Iran's "support for terror is in stark contrast to the recent commitments of many of its neighbors to fight terrorism and halt its financing."
The assertion came while it is the US and some of its regional allies, including Saudi Arabia, that have been staunch supporters of Takfiri terrorists in the Muslim states of Syria and Iraq.
It is no secret that Daesh Takfiri terrorists were initially trained by the CIA in Jordan in 2012 to destabilize the Syrian government.
Tehran, meanwhile, has been praised for its support for anti-terrorism efforts by the governments in Damascus and Baghdad.