UN Blacklists Saudi-Led Military Coalition for Killing Yemeni Children
October, 06, 2017 - 15:08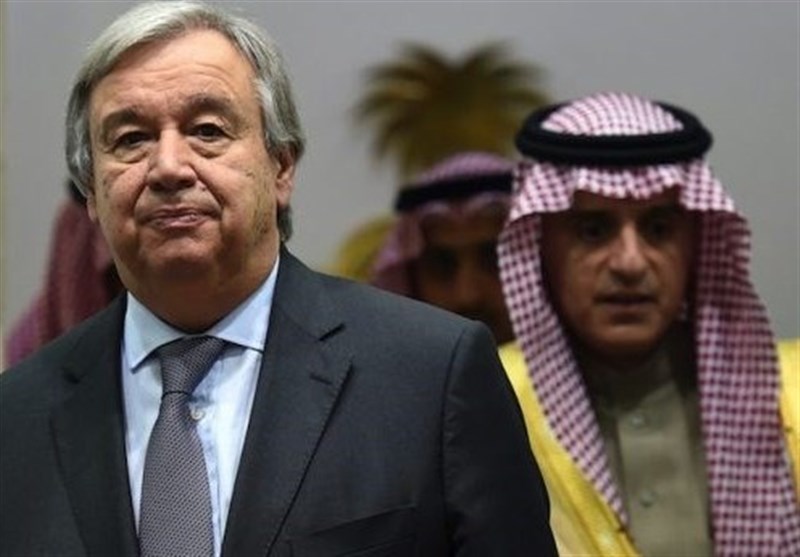 TEHRAN (Tasnim) - UN blacklisted Saudi Arabia-led military coalition for killing or injuring hundreds of children in Yemen.
The United Nations 'annual report released on Thursday has blacklisted the Saudi Arabia-led military coalition in Yemen for killing or injuring 683 children, and attacking dozens of schools and hospitals.
The Saudi-led military group was involved in 38 verified attacks on schools and hospitals in 2016, the UN said.
The UN annual report on children also blacklisted Yemen's Houthi Ansarullah movement, fugitive former President Abd Rabbuh Mansour Hadi's mercenaries and Al Qaeda in the Arabian Peninsula for violations against children in 2016.
In this regard, the UN Secretary-General Antonio Guterres said Thursday that "the (Saudi-led) coalition's actions objectively led to the listing for the killing and maiming of children, with 683 child casualties attributed to this party."
The secretary-general said there were 1,340 verified child casualties in Yemen — over 50 percent of the deaths and injuries caused by the US-backed coalition.
UN sanctions monitors reported to the Security Council in January that the Saudi-led coalition had carried out attacks in Yemen that "may amount to war crimes."
The UN sanctions monitors said at the time that the coalition was made up of Saudi Arabia, Bahrain, Kuwait, Qatar, the United Arab Emirates, Egypt, Jordan, Morocco and Sudan.
The annual children and armed conflict report is produced at the request of the UN Security Council.
The coalition had been briefly added to last year's blacklist, and then removed by then-UN chief Ban Ki-moon pending review.
At the time, Ban accused Saudi Arabia of exerting "unacceptable" undue pressure after sources revealed that Riyadh threatened to cut some UN funding.
Yemen's defenseless people have been under massive attacks by a coalition led by the Riyadh regime for more than two years but Riyadh has reached none of its objectives in Yemen so far.
Since March 2015, Saudi Arabia and some of its Arab allies have been carrying out deadly airstrikes against the Houthi Ansarullah movement in an attempt to restore power to Mansour Hadi, a close ally of Riyadh.
Over 12,000 Yemenis, including thousands of women and children, have lost their lives in the deadly military campaign.