IAEA Reports Not Influenced by Politics, Amano Assures Iran
TEHRAN (Tasnim) – Director-General of the International Atomic Energy Agency Yukiya Amano said the UN nuclear agency relies only on observations and verifiable facts in making its reports, assuring Iran that the IAEA would not come under the influence of political pressures.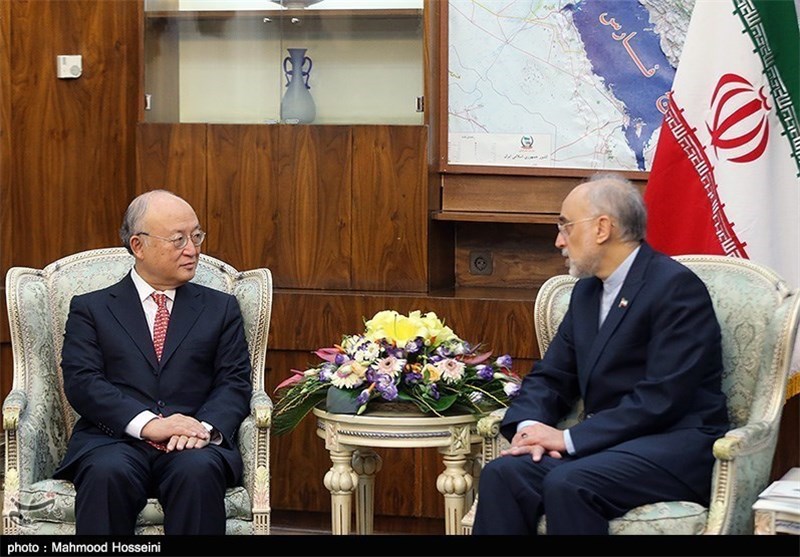 What matters for the IAEA and what shapes the basis of its reports and comments is tangible assessment of different countries' nuclear activities and commitments, Amano said in a meeting with Head of the Atomic Energy Organization of Iran (AEOI) Ali Akbar Salehi, held at Iran's embassy in Rome on Monday.
As a result, the IAEA chief added, political developments would not affect the UN nuclear agency's evaluation of the nuclear issues.
Amano further noted that the IAEA has confirmed in all of its reports that Iran has been honoring its commitments under the Joint Comprehensive Plan of Action (JCPOA), a nuclear agreement between Tehran and the Group 5+1 (Russia, China, the US, Britain, France and Germany).
The two officials also discussed the latest political developments surrounding the JCPOA and the US administration's recent stances and comments.
In a forthcoming speech, US President Donald Trump is expected to declare that the JCPOA is no longer in America's national security interests and to decertify the multilateral agreement.
Iran and the Group 5+1 (also known as E3+3) reached the 159-page nuclear accord in July 2015 and implemented it in January 2016.
The IAEA is responsible for monitoring Iran's nuclear activities as per the nuclear deal and should also help Iran develop its nuclear energy program.
Since the historic deal was signed in Vienna, the IAEA has repeatedly confirmed the Islamic Republic's compliance with its commitments under the JCPOA.