Change in Enemies' Stances Tactical: Syria Minister
TEHRAN (Tasnim) – Syria's minister of state for national reconciliation affairs said changes in enemies' stance towards Syria is tactical, noting that they are adapting themselves to new realities on the ground in Syria.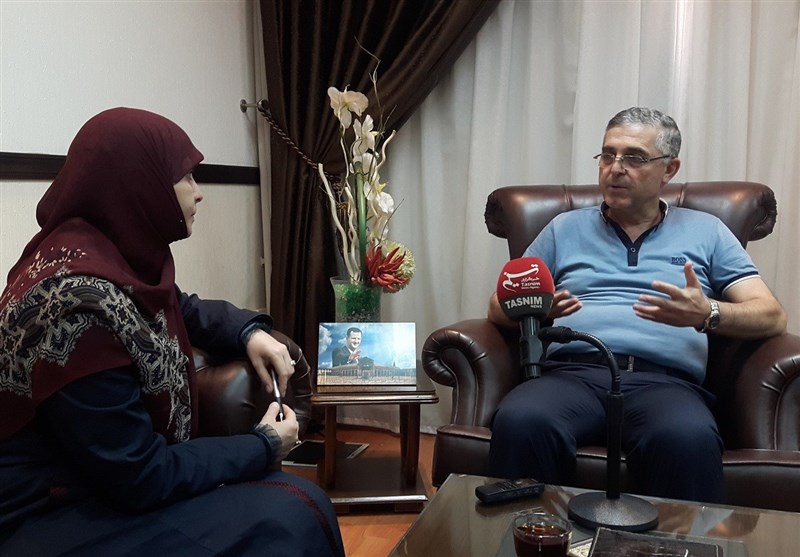 Ali Haidar made the remarks in an exclusive interview with the Tasnim News Agency.
Commenting on possible changes in the US and some western officials' stance on Syria, he said, "I do not believe in changes in their stances on ongoing developments or on real solutions that is in favor of the Syrian nation."
"They are still after their interests and their past strategy has not changed," Haidar said, adding, "They may had changes in their tactics but I call it their efforts to adapt to realities on the ground in Syria."
He pointed to the US officials' remarks on Syria, and said the US policy is more harmonic regarding realities in Syria and Washington is trying to exit from Syria without losing all its cards.
He referred to the method of trial and error adopted by Turkey and the US in Syria, and said, "Turkey has lost all its bargaining chips."
Talking about the rift between foreign sponsors of terrorist groups and disputes between Qatar and Turkey in one side and Saudi Arabia on the other side, Haidar noted, "They are in dispute with each other but they are in agreement on opposing the Syrian nation interests."
He noted that changes in their stance towards Syria is tactical and not strategic.
Foreign sponsors of terrorists are in dispute with each other, accusing the other side of sponsoring terrorism. Saudi Arabia and its allies have recently blockaded Qatar for what they called Doha support for terrorism. In the meantime, Turkey is opposed to the US support for the Kurds in Syria. Dispute between supporters of terrorists has resulted in softening of their tone towards Damascus and they are withdrawing their call for removal of Bashar al-Assad from power as precondition to talks for resolution of crisis in the region.
Elsewhere in his remarks, Syria's minister of state for national reconciliation affairs referred to importance of victories in Deir ez-Zor region, noting that it was an important step in military point of view because it connects the Syrian forces to Iraqi forces fighting Daesh (also known as ISIS or ISIL) along border areas.
He pointed to the US and its allies' efforts to prevent Syrian and Iraqi forces' geographical connection and noted that breaking the chain of resistance, which includes Iran, Iraq, Syria and Lebanon was "part of the enemy plot" but has remained futile.
The minister pointed to Syrian forces' move into northern countryside of the Euphrates River after conquering the Deir ez-Zor region, and said, "We started the operation towards the northern part of the Euphrates River and it opened new horizon to our forces."
"We have important oil and gas fields in these regions and government is resolved to retake them," he added.
Haidar referred to the US official's efforts to prevent presence of Syrian forces in the northern parts of Euphrates River, noting that it was assumed a 'redline' by some.
The northeastern part of Deir ez-Zor was the only part of Syria that US could play a role, he said noting that they are surprised of Deir ez-Zor liberation because as a result of the event, "their plots was completely disrupted".
Syria's army and allied fighters broke years-long Daesh siege of the city of Deir ez-Zor east of the country. The oil reach region is strategically important and borders Iraq. Syrian government troops crossed to the eastern bank of the Euphrates River in Deir ez-Zor recently in a bid to recapture the region from Daesh. US sponsored Kurdish forces are also trying to seize land and oil fields in the region.
Furthermore, Syria's minister of state for national reconciliation affairs referred to developments at both battlefield and political scene and said "We are witnessing improvement of situation in Syria."
He noted that the Syrian army and government successes are "the result of allied countries' support, on top of them Iran."
"Russian friends had also a significant role," the official emphasized.