Iran Keen to Boost Ties with Tanzania in All Areas: FM Zarif
TEHRAN (Tasnim) – Iranian Foreign Minister Mohammad Javad Zarif expressed Iran's resolve and readiness to develop relations with African states, Tanzania in particular.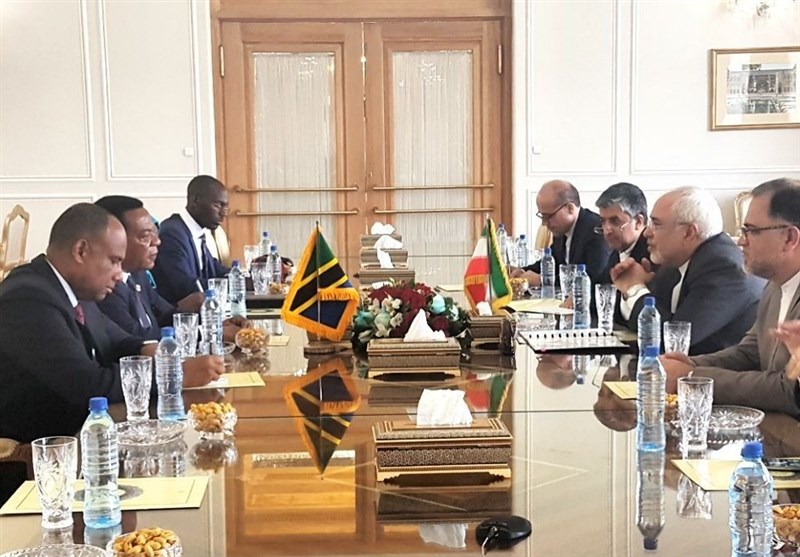 Iran is ready to develop and deepen ties with Tanzania in diverse economic and political fields, Zarif said in a meeting with his Tanzanian counterpart Augustine Mahiga in Tehran on Wednesday.
He added that the two countries' state and private sectors could strengthen their bilateral ties in various fields, including banking, tourism, energy, science, and technology.
Mahiga, for his part, hailed Iran's achievements in the fields of politics, economy, science, and culture, calling for enhanced ties between the two nations.
During the meeting, the two sides also called for the formation of a joint economic commission between Tehran and Dodoma.
Heading a high-ranking delegation, the Tanzanian foreign minister arrived in Tehran on Wednesday to hold talks with Iranian officials on issues of mutual interest.
Expansion of relations with African nations in all political, economic and cultural fields is top on the agenda of Iran's foreign policy.
Iranian President Hassan Rouhani, who won a second term back in May, has repeatedly stressed his government's interest in boosting relations with the African states.