Trump's Retreat from JCPOA to Damage Trust in US Dealmaking: EU's Mogherini
TEHRAN (Tasnim) – US President Donald Trump's possible withdrawal from the 2015 nuclear deal between Tehran and world powers could dissuade other nations from entering agreements with the US, European Union Foreign Policy Chief Federica Mogherini said.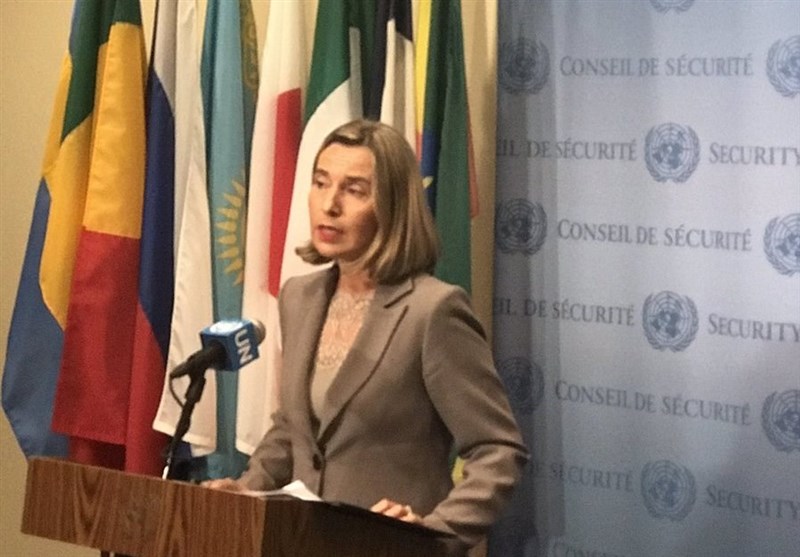 "The message that America would send to the rest of the world is that America cannot be trusted upon, because a deal that America voted for just two years ago in the UN Security Council with a resolution unanimously adopted, a deal that America helped to shape enormously, enormously, would be rejected by the same country," Mogherini told PBS NewsHour on Wednesday from EU headquarters in Brussels.
It would also indicate that the United States would be willing to renegotiate agreements with every new administration, giving other countries reason to hesitate on negotiations if they felt future leadership would give them a better deal, Mogherini added.
"This is not a way of making deals, not in foreign policy, not in private businesses, and I think President Trump understands this perfectly well," she said.
In a forthcoming speech, US President Donald Trump is expected to declare that the JCPOA is no longer in America's national security interests and to decertify the multilateral agreement.
Iran and the Group 5+1 (Russia, China, the US, Britain, France and Germany) reached the 159-page nuclear accord in July 2015 and implemented it in January 2016.
The International Atomic Energy Agency (IAEA) is responsible for monitoring Iran's nuclear activities as per the nuclear deal and should also help Iran develop its nuclear energy program.
Since the historic deal was signed in Vienna, the IAEA has repeatedly confirmed the Islamic Republic's compliance with its commitments under the JCPOA.