Iran to Honor JCPOA as Long as Other Parties Do: President
TEHRAN (Tasnim) – Iranian President Hassan Rouhani said Tehran would remain committed to the 2015 nuclear agreement with six world powers, also known as the Joint Comprehensive Plan of Action (JCPOA) so long as other parties to the deal honor it.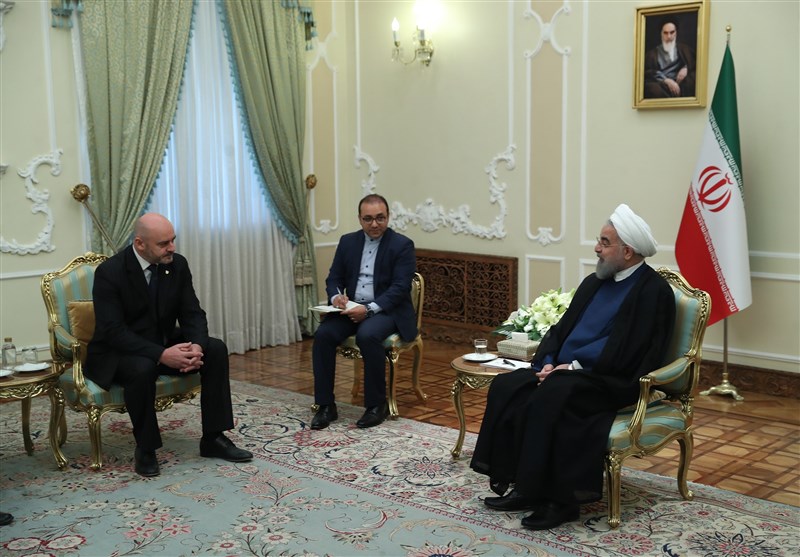 Speaking at a meeting with the Czech Republic's new ambassador to Tehran, Svatopluk Cumba, on Saturday, President Rouhani highlighted the importance of the JCPOA and said following the deal, better conditions were created for closer cooperation between the Islamic Republic and European countries.
He also said all parties to the multilateral agreement should implement their obligations under the deal, adding that as long as other parties remain committed to the deal, so will Iran.
The president also hailed the removal of anti-Iran sanctions and the good atmosphere created for closer cooperation between Iran and the European Union as the positive outcomes of the JCPOA and said, "The existing capacities and potentials in Iran and the Czech Republic should be tapped in order to develop all-out cooperation in various sectors."
The Czech diplomat, for his part, hailed the growing ties between Tehran and Prague and said the economic activists of the two countries have good cooperation in line with efforts to boost bilateral economic relations.
During the meeting, Cumba also submitted his letter of credence to the Iranian president.
The remarks come against the backdrop of a new wave of interest in ties with Iran after Tehran and the Group 5+1 (Russia, China, the US, Britain, France, and Germany) on July 14, 2015 reached a conclusion over the text of the JCPOA and started implementing it on January 16, 2016.
The comprehensive nuclear deal terminated all nuclear-related sanctions imposed on Iran.
However, Iranian officials have complained about the failure of the other side, especially the US, to fully implement the accord, as Iran still has problems in its banking transactions with other countries.