Tel Aviv behind Trump's Anti-Iran Speech: US Analyst
TEHRAN (Tasnim) – An American Analyst said US President Donald Trump is in cahoots with the Zionist regime of Israel and his latest speech against Iran proved this.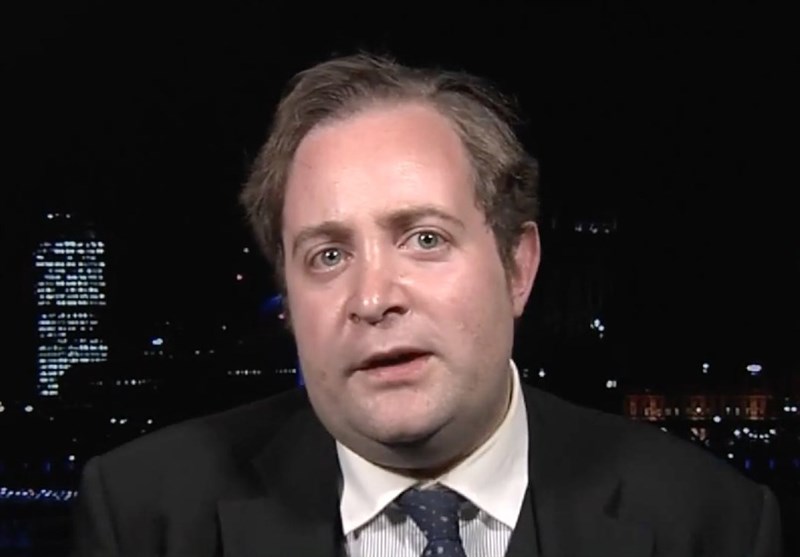 "Trump's speech proves that Trump is, in fact, colluding with and under the influence of a foreign power. However, this power is certainly not Russia. The power with whom Trump is colluding is the Israeli regime," Adam Garrie told Tasnim in an interview.
Garrie is an expert in Russia, Eurasian, Middle Eastern and US history. He is the managing editor of The Duran and a frequent Bullhorn on RT's CrossTalk debate show.
Following is the full text of the interview.
Tasnim: US President Donald Trump in a major confrontational stance against the Islamic Republic of Iran on Friday refused to certify the 2015 nuclear deal between Tehran and world powers and imposed further sanctions against the country's Islamic Revolution Guards Corps (IRGC). What is your take on his speech?
Garrie: Trump's speech proves that Trump is, in fact, colluding with and under the influence of a foreign power. However, this power is certainly not Russia. The power with whom Trump is colluding is the Israeli regime. Many parts of Trump's speech about the JCPOA were almost identical to the one given very recently at the UN General Assembly by Benjamin Netanyahu. Furthermore, 24 hours before the speech, both the US and Israel withdrew from UNESCO simultaneously. The synchronicity between Tel Aviv and Washington is patently obvious, but the power of the Israel lobby in the US means that this important issue is never discussed by the US media.
In recent years, Tel Aviv has pivoted its geo-political hatred from the Arab world to Iran. Having successfully divided and subdued much of the Arab world, with a few notable exceptions (mainly Syria and Hezbollah in Lebanon), Israel has turned to Iran, arguing for continued acts of economic, geopolitical and even military aggression against Iran, in spite of the fact that Iran has not invaded occupied Palestine or any other country in the region at any time in modern history.
Donald Trump's speech was filled with the same 'fake facts' that have become staples of speeches from Israeli regime officials. The most insulting 'fake fact' is that Iran is a sponsor of terrorism and even more absurdly that the IRGC is terrorist group. The reality is that Iran is fighting Takfiri terrorists such as Daesh and al-Qaeda in places like Syria and Iraq. Iran has also been the victim of Takfiri terrorism, just as the entire civilized world is under threat from such groups. The American people ought to have this information so they can see that their leaders are acting with aggression towards a country that is making sure that Daesh and al-Qaeda fail in their wicked mission. Iran can only be described as a friend to any peoples who are sincerely opposed to terrorism.
Thus, we see a speech that was designed to provoke Iran militarily and politically. The response of Iranian President Hassan Rouhani demonstrated that Iran is not about to fall into the trap set by the US and Israel. Iran has pledged to work with responsible members of the international community to preserve the JCPOA, which Iran entered into with good faith and has fully complied with according to every state and every major international body, including the UN. Only the US and Israel have stated otherwise. Even the Saudi regime, while offering typical anti-Iranian rhetoric, actually welcomed the JCPOA in 2015. More crucially, America's EU allies have come out strongly in favor of the JCPOA, thus demonstrating how isolated Washington and Tel Aviv are on this matter.
Tasnim: "The Iranian regime has committed multiple violations of the agreement, for example on two speared occasions they have exceeded the limit of 130 metric tons of heavy water, until recently, the Iranian regime has also failed to meet our expectation in its operation of advanced centrifuges," Trump claimed. This is while the IAEA has confirmed Iran's compliance with the deal for eight times. What is behind this denial? Do you believe that he is seeking a new war?
Garrie: I am not sure if Donald Trump knows he is lying. Whereas such lies slip off the tongues of Israeli regime officials easier than a ripened fruit falls from the tree, Trump was clearly reading from a script and his delivery was strained. By contrast, Hassan Rouhanis' speech flowed naturally, because it was clear that a well-known scholarly and faithful man was speaking from his heart on behalf of his nation's history and dignity.
When Trump talks about the matters close to his heart, such as golf, his hotels or American celebrities he thinks are ugly, he speaks very naturally and with ease. Perhaps he should think twice, and confine his rhetoric to that which he truly finds meaningful. The problem is, there are few level-headed voices in the US to step into this void. Ron Paul who has campaigned for peace, was never let close to power, for example.
Clearly, the chaos of Washington has caught up with the inexperienced US President, so much so that no one was even able to restrain him from driving a wedge between EU countries that usually follow US policy in almost all respects.
Europe has been so alienated that even the German Foreign Minister, Sigmar Gabriel said that this move by the US could push the EU closer to Russia and China.
Whoever wrote Trump's speech clearly does not value world peace, international law, factual accuracy or even America's oldest allies.
Tasnim: Shortly after his speech, Israel, Saudi Arabia, Bahrain and the UAE welcomed Trump's decision not to certify the agreement. Trump called Iran a "rogue" state and repeated Washington's allegations that Tehran sponsors terrorism and continues "aggression in the Middle East and all around the world." What do you think? Which countries are true rogue states?
Garrie: The most rogue state in the world is Israel. Israel continually violates UN resolutions, more than any other state in UN history. Israel has illegal weapons of mass destruction, including nuclear weapons, Israel has invaded, occupied and annexed its neighbors since its inception and continues to do so. Furthermore, Israel continues to inflict death, sorrow and economic depression upon Palestinians. History will not look with grace nor favor upon those who support a regime that glories in the death of innocent human beings, including women and children.
The Saudis, Bahrainis and Emiratis are clearly being delusional here. The Saudi-led isolation of Qatar has generally been a failure and has only helped Qatar to develop new international relations as a result. This proxy attempt to punish an Arab state for allegedly moving closer to a partnership with Iran demonstrates the bankruptcy of Saudi foreign policymaking. It is clear that the Saudis and their partners will cheer just about any anti-Iranian statement anywhere in the world, but the idea that such countries are willing or able to mount a serious threat to Iran is not realistic. Deep down, most of the Saudi officials and their allies realize this in private. The Saudis in particular, are well aware that their military, while expensively armed, is generally unfit and largely incapable. This is why they pretend that their aggression against Yemen is a 'war on Iran'. It is a psychological mechanism employed by Saudi to justify the fact that their wealthy state cannot even withstand the defensive measures of lightly armed Houthi fighters in Yemen.
Furthermore, Saudi's increasingly eastward business contacts, in addition to the US now acting as a competitor to Saudi in terms of energy exports, could cause a dramatic shift in the geopolitics of the Persian Gulf. While Saudi will probably never be able to speak realistically about Iran, the regime in Riyadh is doing business with many partners and friends of Iran, thus exposing the continual hypocrisy of Saudi.
I believe that the increased influence of Russia in the Persian Gulf will be good for peace, even if it will not change the outrageous statements of the Saudi regime and others. Ultimately, the more Russia and China are involved in the region, the less likely it is for anyone in the Persian Gulf to attempt and commit an act of aggression against Iran. Prosperity is an effective tool for peace and this should not be underestimated.
This is why it is clear that the US cares nothing for peace. Take North Korea for example, if the US wanted a de-escalation of tensions in East Asia, they would offer the DPRK honest commercial opportunities rather than try to starve its people with sanctions. If you starve a man, his body might shrink but his anger and resentment will grow. If you feed a man, he will generally express his goodwill in return. The same is true of geopolitical relations. The US, however, does not seem to understand this crucial point.
Tasnim: In his speech, Trump referred to Iran's "proud history, its culture, its civilization, its cooperation with its neighbors." However, he used the "Arabian Gulf" instead of the Persian Gulf in his speech. What's your take on this?
Garrie: Again, when it comes to Donald Trump, I am honestly not sure that he could locate the Persian Gulf on a map. Whoever wrote the speech wanted to insult Iran's dignity by using a name that is totally ahistorical and one which is rejected by all serious individuals.
Regimes that often have no profound historical basis themselves, frequently try to re-define well-known geographical names in order to justify themselves. One sees this all the time in Ukraine, where a corrupt pro-US regime seeks to deny its own distinctly Russian heritage.
Before his execution by NATO-backed Takrifi terrorists, Muammar Gaddafi told the Arab League that there is no reason for Arab countries to have hostility towards Iran. Gaddafi, as a leading Arab nationalist, was well placed to deliver such an important message of peace.
The countries, like Saudi and now like the US, who are afraid to utter the words 'The Persian Gulf', only bring shame upon themselves. It is a childish attitude from childish regime.