Iraqi Army Advancing on Last Daesh Stronghold of Al-Qaim
TEHRAN (Tasnim) – The Iraqi forces have closed in on the Daesh (ISIL) terrorist group during a major offensive to recapture the last bastion of terrorists in the western province of Anbar, liberating many rural regions and killing dozens of militants, officials said.
The Iraqi troops, the police forces, and the Popular Mobilization Units (PMU), also known as Hashd al-Shaabi, have taken part in the assault on al-Qaim and Rawa, in the Euphrates river valley close to the border with Syria.
The major operation began early Thursday under command of Iraq's Prime Minister Haider al-Abadi.
As the Iraqi forces resumed their advance to liberate the last two bastions of Daesh on Friday, several regions were liberated and many Daesh members were killed in Anbar Province.
"Troops of the Jazeera Operations Command liberated, today, villages of al-Awani, northern Jibab and al-Zallah, south of Euphrates," Western Anbar Operations Command said in a statement on Friday.
"Troops are still advancing," Iraqi News quoted the command as saying.
Amid the operation, the Iraqi forces ran into a mass grave, composed of relics of army and police personnel in southwestern Kirkuk, military sources reported on Friday.
"A mass grave composed of relics of 50 army and police personnel was found in al-Bakara village in Hawija. They were executed by Daesh," the Defense Ministry's War Media Cell said.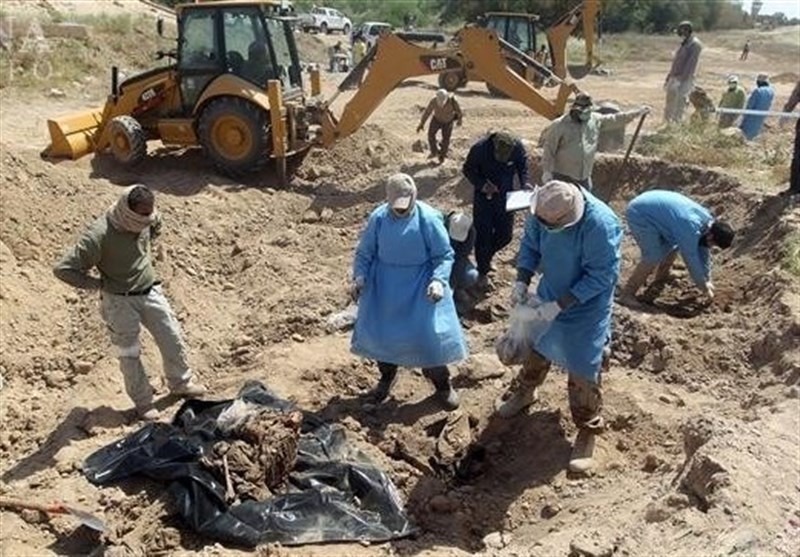 The Iraqi forces have now driven Daesh forces out of about 95% of the land the terrorist group once held in Iraq and freed more than 4.4 million Iraqis from its rule.
Al-Qaim, about 315 km (195 miles) northwest of Baghdad, Rawa and the nearby Syrian border town of Albu Kamal are of strategic importance to Daesh as the group used routes through them to transfer fighters, weapons and goods.
An estimated 50,000 people are still living in al-Qaim and Rawa, according to the United Nations, while 63,500 have fled since January - mostly children, women and older people.