Ayatollah Khamenei Suggests Elimination of US Dollar in Iran-Russia Economic Transaction
TEHRAN (Tasnim) – Leader of the Islamic Revolution Ayatollah Seyed Ali Khamenei on Wednesday suggested that Iran and Russia can use national currencies as a way to confront economic sanctions imposed by the US against Tehran and Moscow.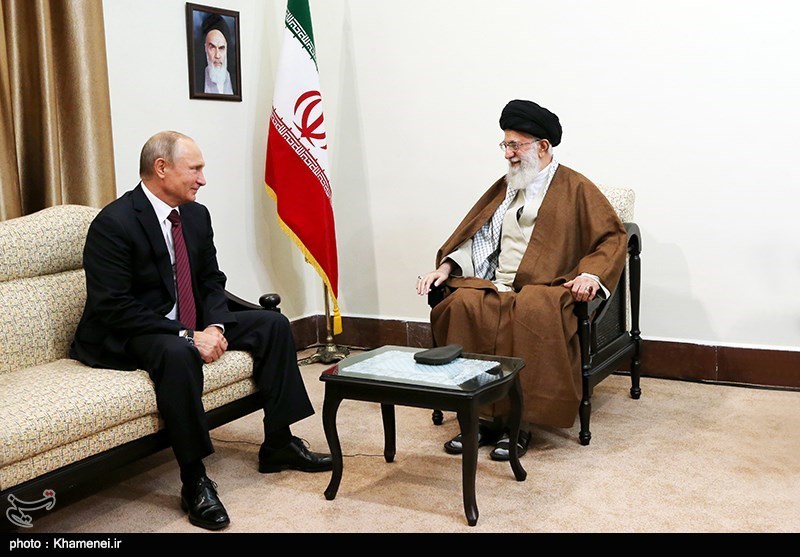 Speaking at a meeting with the visiting Russian President Vladimir Putin in Tehran, the Leader called for cooperation to counter US sanctions against Iran and Russia.
"By ignoring the negative propaganda of the enemies, that seek to weaken relations between countries, we can nullify US sanctions, using methods such as eliminating the dollar and replacing it with national currencies in transactions between two or more parties; thus, isolate the Americans," Ayatollah Khamenei said.
He referred to the great experience of cooperation between Iran and Russia, on the issue of Syria, and stated, "Results from this cooperation prove that Tehran and Moscow can achieve common goals in difficult arenas."
"We must take advantage of useful experiences, during recent years, on regional issues and mutual relations to consolidate and develop our ties."
Ayatollah Khamenei said that the two countries' economic cooperation capacity is far beyond the current level, adding, "In the transportation sector, we can expand cooperation, using the main axis of Chabahar port to the port of Saint-Petersburg, as well as in other economic areas."
Imam Khamenei called President Putin a strong human, determined to make decisions and take action.
"That's why sensible discussions and cooperation on big movements, which requires determination and hard work, is possible with Russia as a powerful state."
Ayatollah Khamenei also deemed Putin's proposal acceptable for furthering regional cooperation in various dimensions.
As a reminder, Ayatollah Khamenei asserted, "The failure of the American alliance in support of terrorists in Syria is an undeniable fact, but they are still engaged in plotting and conspiracy. Thus, the full resolution of the Syrian issue needs sustained, firm cooperation."
The Leader mentioned that the joint Iranian-Russian resistance against Takfiri terrorists, supported by several foreign countries, will have important results, adding, "The good combination and the cooperative resistance of Tehran and Moscow against the sedition and corruption of terrorists in Syria is significant, and it has made Russia an influential player in the Western Asia region."
Ayatollah Khamenei called the Syrian people the main decision-makers on issues surrounding their country.
"As you mentioned, all of Syria's decisions and solutions on the government in Syria should originate from within this country. The Syrian government should not be pressured to implement any plans; and, as far as possible, the plans would better be comprehensive for the entire region," the Leader said.
He then agreed with the Russian president's speech about the JCPOA and the necessity of complying with multilateral treaties, adding, "The Americans, unfortunately, continue their rebellion, which must be addressed by relying on reason and correct methods."
Ayatollah Khamenei approved of Vladimir Putin's stance on solving regional issues without external parties and said, "The Americans seek to interfere in all issues of the region and the world, and to do so. They rely on weak authorities in other countries."