Iran Displays Long-Range Missile on Anniversary of US Embassy Takeover
November, 04, 2017 - 14:49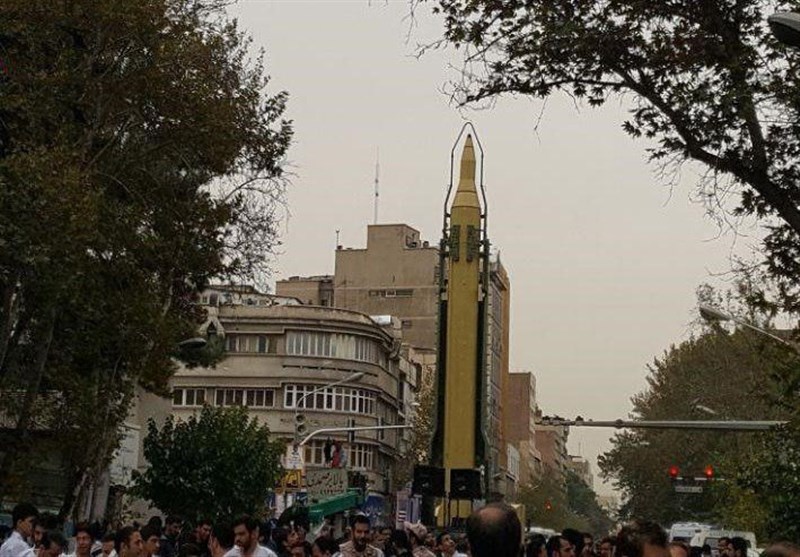 TEHRAN (Tasnim) – Iran displayed a long-range ballistic missile during a big rally held in Tehran on Saturday to mark the "National Day of Fight against Global Arrogance".
Thousands gathered at the former US embassy in the Iranian capital where the surface-to-surface missile, Qadr-F, with a range of 2,000 kilometers, was on display.
The missile was test launched in 2016 from the heights of Alborz Mountains, northeast of Iran, and hit the target on the Makran coasts, southeast of the country.
On November 4, 1979, and in less than a year after the victory of the Islamic Revolution that toppled a US-backed monarchy, Iranian university students who called themselves "students following the line of (the late) Imam (Khomeini)" seized the US embassy in Tehran, which had become a center of espionage and planning to overthrow the newly established Islamic system in Iran.
The students who seized the embassy later published documents proving that the compound was indeed engaged in plans and measures to overthrow the Islamic Republic.
Every year on the 13th day of the Iranian month of Aban (which this year falls on November 4), the Iranian nation, particularly students, hold rallies across the country to mark the day.
In the capital city of Tehran, the rallies to mark the anniversary of the landmark move are held at the venue of the former US embassy, which is known by Iranians as "Den of Espionage".