Quake Damages 8 Cities, 526 Villages in Western Iranian Province: Official
TEHRAN (Tasnim) – The head of the Relief and Rescue Organization of the Iranian Red Crescent Society (IRCS) said eight cities and 526 villages in the western province of Kermanshah have been damaged in Sunday's 7.3-magnitude earthquake that killed at least 348 people and injured thousands.
November, 13, 2017 - 14:38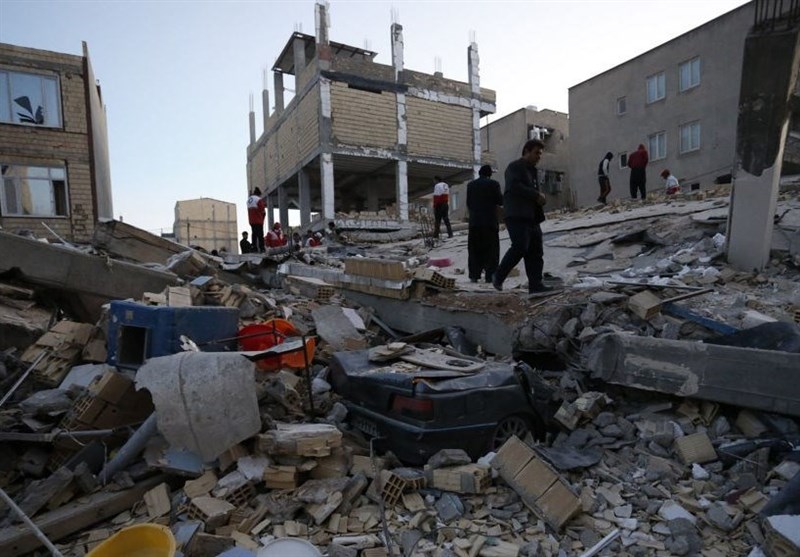 Morteza Salimi said on Monday that eight cities, including Kermanshah, Qasr-e-Shirin, Salas-e Babajani, Gilan-e-Gharb, Sarpol-e Zahab, Dalahu, Eslamabad-e Gharb and Javanrud have been damaged by the quake.
About 138,000 people were living within a 50 km radius of the earthquake's epicenter, he said, adding that 33,379 households have been affected by the temblor.
Speaking to the Tasnim News Agency, Governor of Dalahu County Moradali Tatar said following the massive earthquake on Sunday night, some villages of the county have been 100 percent destroyed.
There are also reports that some historical monuments of the western province have been damaged.
The head of the office of Iran's Cultural Heritage, Handicrafts and Tourism Organization (ICHHTO) in Kermanshah said five historical monuments have been damaged and inspections are underway to estimate the extent of destruction.
At least 348 people have been killed and 6,000 injured in the quake measuring 7.3 on the Richter scale, whose epicenter was near Halabjah, southeast of Iraq's Sulaymaniyah.
The province of Kermanshah declared three days of mourning, as rescue teams from across the country have hurried to dig out survivors stuck under the rubble and save the wounded.
In a telephone conversation with President Hassan Rouhani after the natural disaster, Governor of Kermanshah Hooshang Bazvand expected that the death toll would rise.
Meanwhile, the provincial police chief, General Manouchehr Amanollahi assured people that full security prevails across the quake-hit areas, saying all roads are open and the traffic flow is normal.
One of the cities hit hardly by the massive quake is Sarpol-e Zahab. Witnesses say they were appalled to see the city skyline on Monday morning, saying half of the buildings seem to have been destroyed.
After a terrible night and ongoing blackout, Sarpol-e Zahab is receiving more rescue teams and sniffer dogs searching for survivors buried under the rubble.
Officials say access to rural areas is still limited.
Field hospitals have been set up in the quake-hit areas.
In a message on Monday morning, Leader of the Islamic Revolution Ayatollah Seyed Ali Khamenei ordered all Iranian officials to rush to help the large number of people affected by the earthquake, and particularly rescue those trapped under rubble in the very first hours after the disaster.