Qouri Qaleh: Asia's Biggest, Most Amazing Water Cave
TEHRAN (Tasnim) - Qouri Qaleh, which is the world's biggest and most amazing water cave is located 84 km from Kermanshah city along the road to Paveh and to the north of Javanroud town.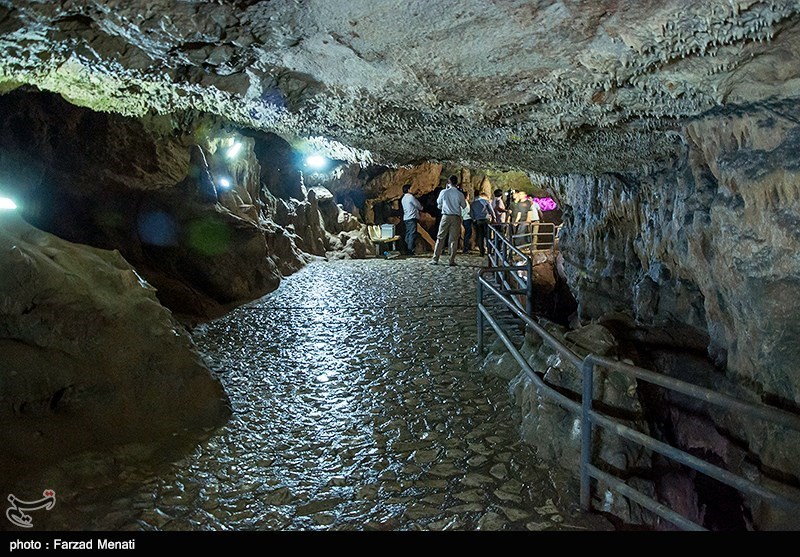 The cave, which is currently considered one of the most important tourism attractions of Kermanshah province, is believed by experts to be the longest and the biggest water cave in the whole Asia.
There is a namesake village near the cave which had been surrounded by various castles in old times. One of those castles was like a teapot (or Qouri in Persian). For this reason, the village and the cave have been called Qouri Qaleh (Qaleh means castle in Persian).
According to another account, it was during the reign of Sassanids when a big castle was built there the remains of which can still be seen. The Kurdish people of the region then called it "Goura Qala" because of its size.
In Kurdish language, "Gowra" means "big" and "Qala" means "castle or fortress". In the course of times, the words have been gradually eroded to "Gouri Qala" and finally to "Qouri Qala".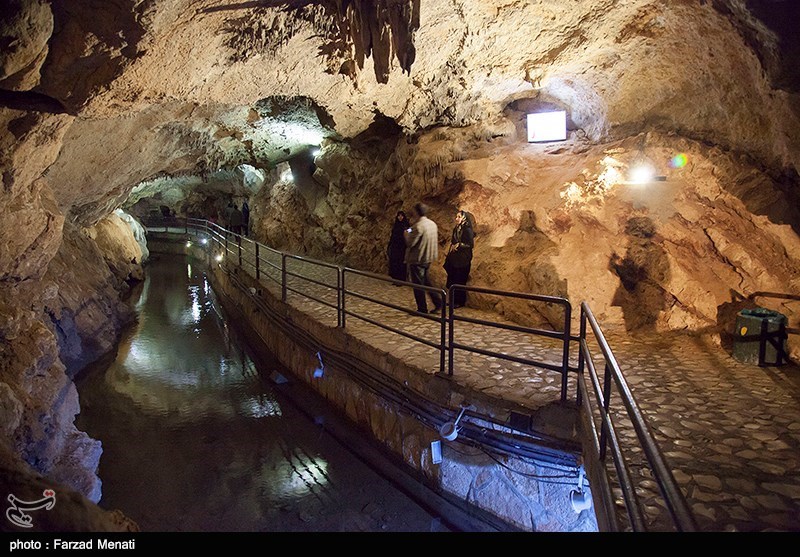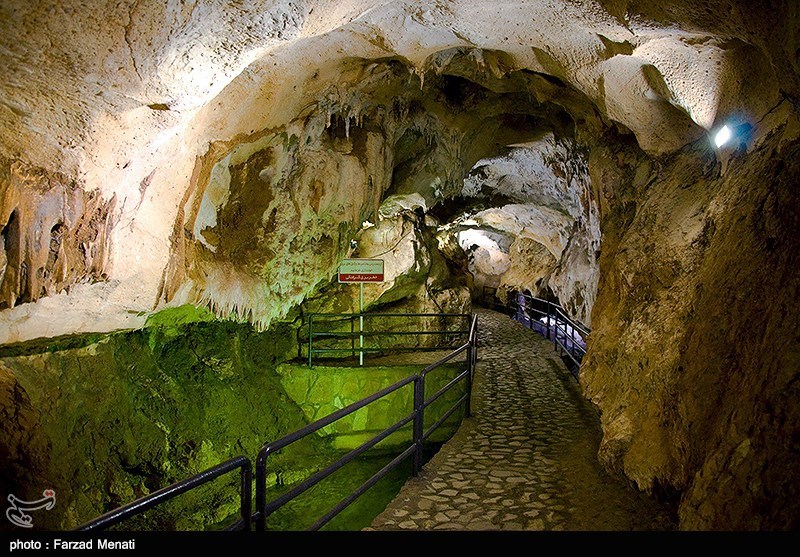 The cave has been used as shelter during history and this has been proven by discovery of bowls, plates as well as other dishes and coins which date back to the reign of Yazdgerd III.
After passing through the entrance corridor of the cave, you reach a vast area which is called "Maryam Hall". It is like a big lake which is surrounded by beautiful stalactites and stalagmites in beautiful shapes. The shapes of those structures at various parts of the cave have determined the names of those parts. For example, a stalagmite which is like statue of Mary is the reason why the first hall of the cave has been called "Maryam (Mary) Hall".
In addition, there are natural shapes in other parts of the cave which are reminder of other personalities and objects including Ferdowsi, Amir Kabir, stone lion, fish, cobra snake, mushroom, Pisa tower, profile of a lion, elephant, heart, cabbage, ice cream, ship, neck of a goose, waterfall, turtle, name of Prophet Mohammad (PBUH) as well as a model of Paveh town.
At a depth of 1,000 meters there is a hall which contains the world's most beautiful water pool. There are stalagmites in the hall, that when touched, produce sounds like musical instruments. Therefore, the hall has been called Beethoven Hall.
At a depth of 1,500 meters, there is "Bride Hall" which is beautiful beyond description. The stones in that hall are made of white and shining crystal and if somebody wants to pass over them, their footprint will remain on them.
From the ceiling, stalactites are hanging which look like a pen. They are made of lime sediments and are similar to crystal. Their length is 2-8 m. the stalactites are so transparent that if you touch them, they easily collapse.
At a depth of 2,700 m, there are four waterfalls, each 10-12 m high and the scenery is quite magical.
Another part of the cave is called "Purgatory Tunnel", which is known as the most horrific part of the cave. It is 220 m long with a width of 3 m and half of it is filled with water.
Of course, thus far, only 500 m of the cave has been equipped with lighting and is open to public.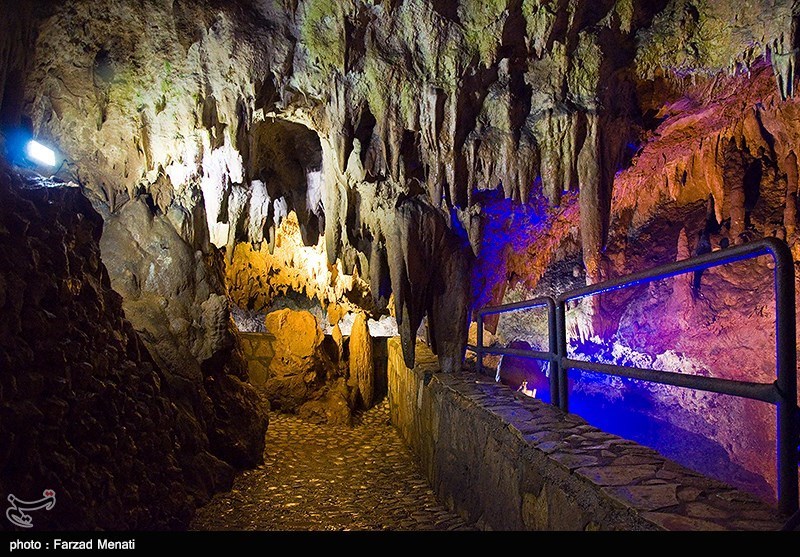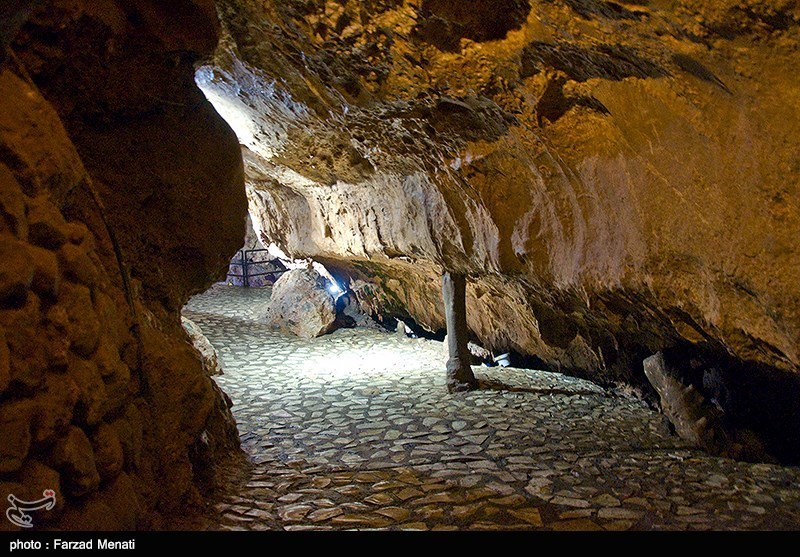 Zoologists maintain that the cave is the habitat of a special species of bats. However, apart from those bats, no other leaving creature has been found at the cave.
Cultural heritage experts maintain that the available information shows that a great number of vertebrates including species of bats and salamanders have lived there before it was opened to public.
Temperature inside the cave varies from -7 to 11 degrees centigrade. Relative humidity stands at 89 percent and these conditions have caused tourist to visit the cave in all seasons.
Qouri Qaleh, among Seven Natural and National Heritages
The cave is located on the slopes of Shahou Mountain in one of the most mountainous areas of Iran. The valley where Qouri Qaleh is located is one of the most beautiful valleys of the province which is covered with forests and has been made more beautiful due to existence of spectacular springs.
The area around the cave abound with chestnut, fig, cherry, and almond trees as well as such fauna as wolves, foxes, pigs, hares, and goats.
The cave and chestnut forests around it enjoy remarkable potential for attracting domestic and foreign tourists. Therefore, Qouri Qaleh has been registered as one of the seven national natural heritages of the country.
Apart from tourists, the cave is a good place for spelunkers, researchers, geologists and other groups of people.
By preparing tourism infrastructures, Kermanshah province, which contains such historical monuments as Taq Bostan, Bistoon Mountain and inscriptions, Anahita Temple, Farhad Cliff, Qouri Qaleh cave, as well as many other resorts, can be turned into a major international tourism hub.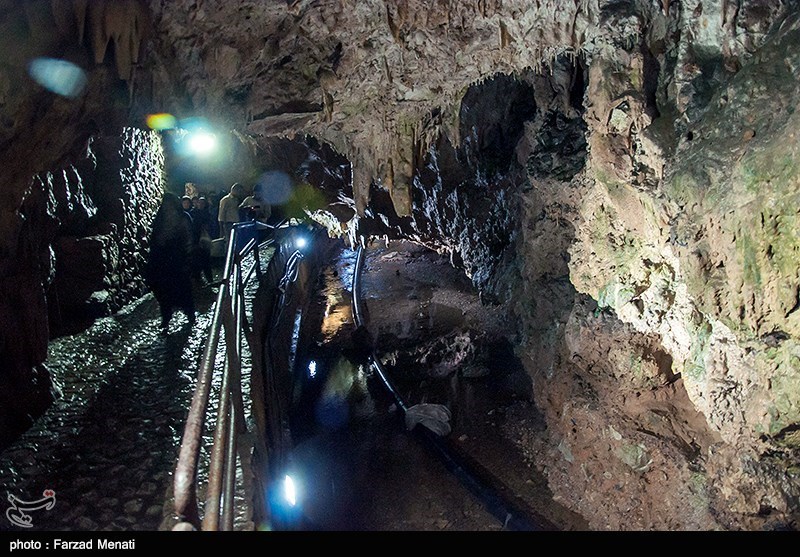 Source: Iran Review