Tehran to Host Iran-Turkey-Qatar Economic Meeting
November, 26, 2017 - 17:45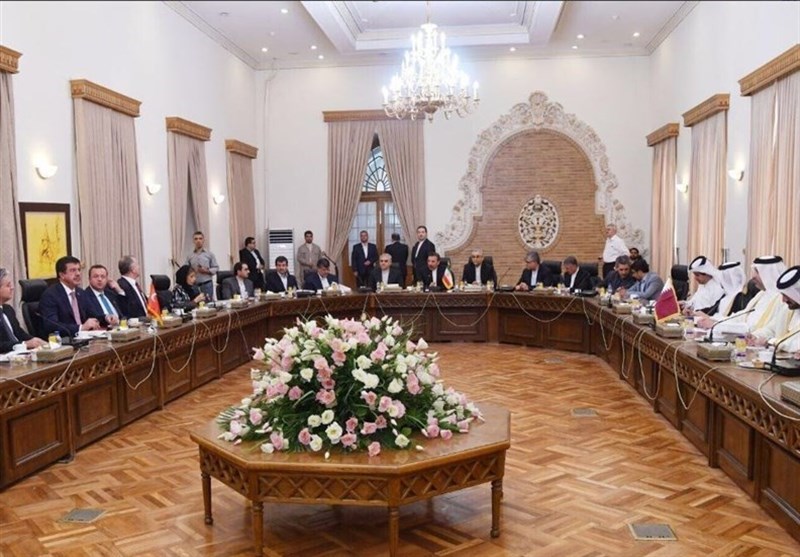 TEHRAN (Tasnim) – Turkish Economy Minister Nihat Zeybekci and Qatari Minister of Economy and Trade Sheikh Ahmed bin Jassim bin Mohammed Al-Thani are in the Iranian capital of Tehran to participate in a trilateral meeting about ways to boost economic ties between the three countries.
Zeybekci, who arrived in Tehran on Sunday, attended a bilateral meeting with Iranian Minister of Industry, Mine and Trade Mohammad Shariatmadari on ways to deepen Tehran-Ankara relations in all spheres.
In a separate meeting on Sunday, Iranian Foreign Minister Mohammad Javad Zarif and the Qatari minister of economy exchanged views about the development of trade relations between the two countries.
Zarif and the Qatari minister stressed the need to eliminate obstacles on the way to boost economic ties between Tehran and Doha.
The Turkish and Qatari ministers and Iranian economic officials will later hold a trilateral meeting on development of trade ties.
Iran, Qatar and Turkey have recently agreed to open a transit route from Turkey to Qatar, and the agreement will be finalized at the trilateral meeting in Tehran.
Back in August, Doha decided to return its ambassador to Tehran, more than 20 months after he was recalled, and strengthen its ties with Tehran amid a diplomatic rift between Qatar and several other Arab countries, including Saudi Arabia, the UAE, Egypt and Bahrain.
The Arab countries allied with Saudi Arabia blame Doha for interfering in the domestic affairs of other states and sponsoring terrorism, an accusation Qatar has rejected as "groundless".
The diplomatic crisis, the worst since the 1990 invasion of Kuwait by Iraq and the subsequent Persian Gulf War, has seen the Arab nations cut ties to Qatar, which hosts a major US military base and will be the host of the 2022 FIFA World Cup.
Doha has been receiving fresh food supplies from Iran, which has also allowed Qatar's national carrier to use its airspace.