Iran's Kashan Wins World Wrestling Clubs Cup
December, 09, 2017 - 10:35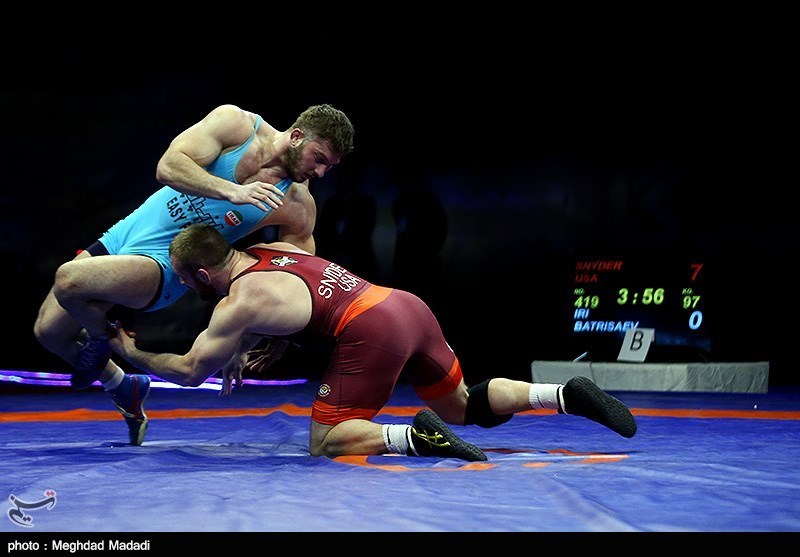 TEHRAN (Tasnim) – Iranian freestyle team Easy Pipe Kashan defeated Titan Mercury (USA) in Tehran's Azadi Hall to win the 2017 World Wrestling Clubs Cup on Friday.
Easy Pipe beat the American team 6-4 in the final game.
Iran participated in the competition with three teams, namely Easy Pipe Kashan, Bimeh Razi and Setaregan Sari.
A total of 10 foreign countries participated in the two-day competition in the Iranian capital.
FINAL
57kg- Reza Atri (Easy Pipe) df. Thomas GILMAN (Titan), 6-4
61kg- Vladimir KHINCHEGASHVILI (Easy Pipe) df. Alan WATERS (Titan), 7-0
65kg- Farzad Amoozadeh Khalili (Easy Pipe) df. B.J. FUTRELL (Titan) 6-4
70kg- Mohammad Naderi (Easy Pipe) df. Franklin GOMEZ (Titan), 2-2
74kg- Nazariy KULCHYTSKYY (Titan) df. Hossein Elyasi (Easy Pipe), 5-4
79kg- Kyle DAKE (Titan) TF. Reza Afzali (Easy Pipe), 12-0
86kg- David TAYLOR (Titan) df. Alireza Karimi (Easy Pipe), 3-1
92kg- Hossein Shahbazi (Easy Pipe) df. Nickolas HEFLIN (Titan), 4-2
97kg- Kyler SNYDER (Titan) TF. Vladislav Baitsaev (Easy Pipe), 11-0
125kg- Geno PETRIASHVILI (Easy Pipe) df. Nick GWIAZDOWSKI (Titan) 6-5
Setaregan Sari also defeated Mongolian team Khimori 9-1 in the third-placed match.