Iranian Duo Shortlisted for Best Goalkeeper of the World
TEHRAN (Tasnim) – Sepehr Mohammadi and Alireza Samimi have been shortlisted for the Best Goalkeeper of the World 2017.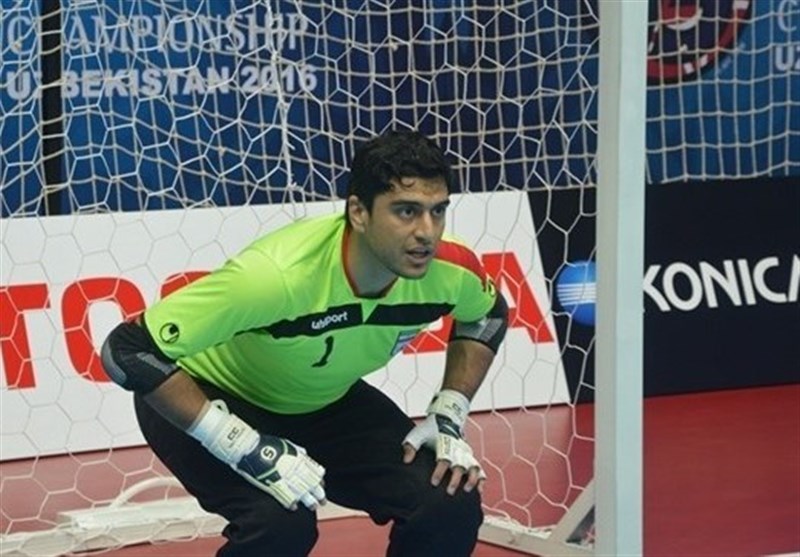 Mohammadi is a member of Asian runner-up Giti Pasand Isfahan, while Samimi plays for Mes Sungun Varzaghan.
Great saves are often basic to get titles, and those ten keepers (together with many other goalies who are not included in the list for this year) used to "collect miracles" in the pitch.
That's why they deserved to fight in order to turn into the winner of theBest Goalkeeper of the World category award, futsalplanet reported.
Who are they? Have a look below!
(in strict alphabetical order!)

* Miodrag Aksentijević (SRB)
MFK Tyumen (RUS) - SERBIA N.T.

* Thiago Mendes Rocha "Guitta" (BRA)
Sport Club Corinthians Paulista (BRA) - BRAZIL N.T.

* Katawut Hankampa (THA)
Chonburi Bluewave Futsal Club (THA) - THAILAND N.T.

* Leonardo De Melo Vieira Leite "Higuita" (BRA/KAZ)
Kairat Almaty (KAZ) - KAZAKHSTAN N.T.

* Jesús Herrero Parrón (ESP)
Movistar Inter FS (ESP) - SPAIN N.T.

* Sepehr Mohammadi Kamalabadi (IRN)
Giti Pasand Isfahan FSC (IRN) - IRAN N.T.

* Francisco "Paco" Sedano Antolín (ESP)
FC Barcelona Lassa (ESP) - SPAIN N.T.

* Alireza Samimi (IRN)
Mes Sungun Varzaghan FSC (IRN) - IRAN N.T.

* Tiago de Melo Marinho (BRA)
Magnus Sorocaba Futsal-Athleta (BRA) - BRAZIL N.T.

* Willian Felipe Dorn (BRA)
JEC/Krona Futsal Joinville (BRA)