20 Killed in South Africa Train Derailment, Investigation Underway
TEHRAN (Tasnim) - The death toll from Thursday's train derailment in South Africa rose to 20 and the number of the injured climbed to about 260, local media reported, citing Free State health department officials.
January, 05, 2018 - 12:42
"This number will increase because the passengers in three carriages have burnt beyond recognition. The search and rescue operation in these carriages is still ongoing," Free State health department spokesman Mondli Mvambi was quoted by the Times LIVE news site as saying.
The incident occurred at about 09:00 a.m. local time (0700 GMT) at a level crossing between the towns of Henneman and Kroonstad in Free State province, Xinhua news agency reported.
Seven of the 15 carriages of the Shosholoza Meyl train, which was traveling from Port Elizabeth to Johannesburg, caught fire and several were derailed after the train collided with a truck whose driver allegedly tried to cross the tracks at a wrong time, according to officials at the scene.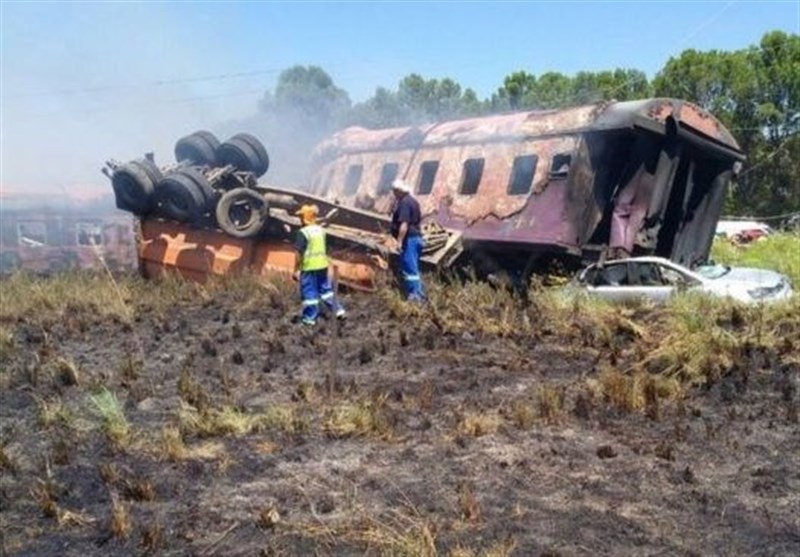 "The truck driver was taking chances. He thought that he was going to pass through," Transport Minister Joe Maswanganyi told a media briefing. "Little did he know that the train was going to hit him. That has cost a lot of lives."
The truck driver survived and was sent to hospital, where his blood will be tested "to verify if he was sober or not, or what was the problem," Maswanganyi said.
The minister added that it might take at least 36 hours to clear the wreckage and restore the rail line, and that the identities of the victims would be released later.
An investigation into the cause of the collision is under way while the state-owned Passenger Rail Agency that runs the train has pointed to "human error."