Iran Sends Delegation to China to Examine Situation of Burning Oil Tanker
TEHRAN (Tasnim) – The spokesman for the Iranian parliament's Energy Commission said the country has dispatched a delegation to China to examine the conditions of an Iranian oil tanker that is still burning after its collision with a freighter off China's eastern coast.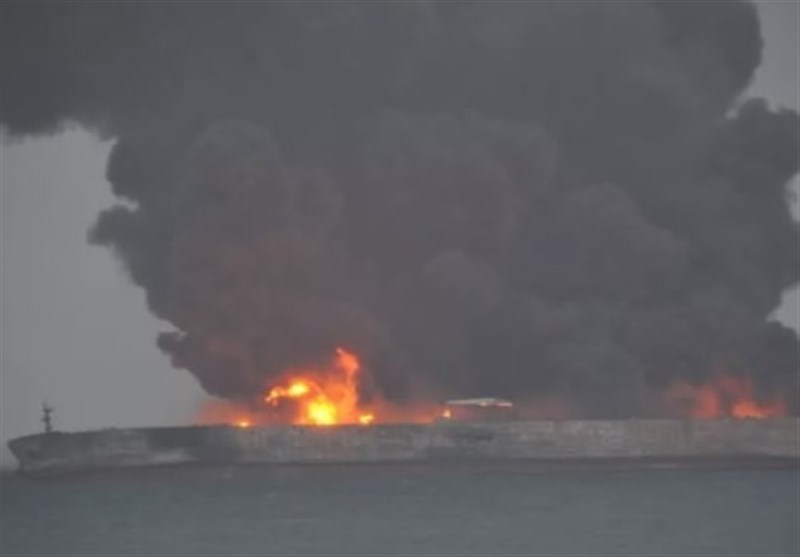 Asadollah Qarekhani told Tasnim that a delegation from the National Iranian Tanker Company (NITC) went to China to be informed of the latest efforts to extinguish the fire and rescue the crew members of the Iranian oil tanker.
He made assurances that the Energy Commission would also examine various dimensions of the incident and its root causes.
The lawmaker went on to say that after the return of the delegation from China, they would be invited to brief the commission's members on the incident.
The Iranian oil tanker continues to burn off the coast of Shanghai, days after it collided with a bulk ship and caught fire, according to a report by the National Public Radio.
One crew member has been found dead, while 31 others remain missing as firefighters continue to battle the blaze.
"Searchers have found the body of one of the missing sailors," CEO of Ports and Maritime Organization of Iran Mohammad Rastad said on Monday, adding that he has been sent to Shanghai for identification.
Meanwhile, the managing director of the NITC said the tanker is giving off poisonous gases, hindering rescue work there.
According to the report, bad weather at sea has made the rescue and cleanup efforts difficult, and authorities are worried the ship will explode and sink, leaking all of its oil.
Iran has set up a special emergency committee in Tehran to help in the ongoing international search and rescue mission aimed at finding the missing crew members, 30 of whom were Iranian and the other two were from Bangladesh.
The Panama-registered tanker Sanchi was steaming from Iran to South Korea carrying 136,000 tons of crude oil when it collided with the Chinese freighter on Saturday evening, sparking a massive fire.
The CF Crystal had been damaged but "without jeopardizing the safety of the ship" and all of its 21 Chinese crew had been rescued, according to China's transport ministry.