Families of Blazing Iranian Tanker's Crew Take DNA Test
TEHRAN (Tasnim) – After the recovery of three bodies from an Iranian oil tanker that has been ablaze for a week following a crash in the East China Sea, families of the Iranian crew of the doomed vessel have taken DNA tests to identify the bodies, an official said.
January, 13, 2018 - 16:55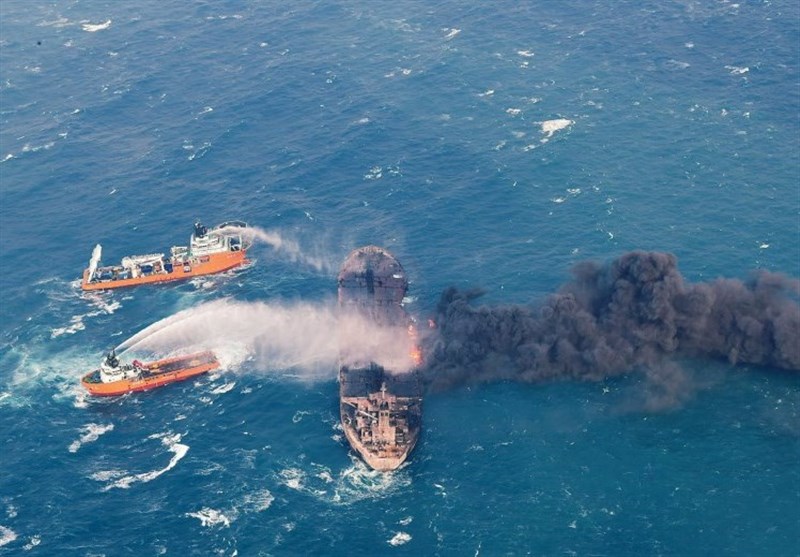 The official at the Iranian Legal Medicine Organization said on Saturday that families of 16 of the 30 Iranians on board Sanchi oil tanker have taken DNA tests.
The next of kin of the Iranian crew are being referred to the forensic medicine centers of the provinces of Tehran and Fars for DNA testing in order to identify the bodies retrieved from the oil tanker, he added.
Sanchi, with 32 people on board, including two Bangladeshis, collided with a Chinese freight ship in the East China Sea on January 6 and has been burning for several days.
While China's search and rescue teams have recovered three bodies so far, a group of Iranian naval commandos have been dispatched to the crash site for rescue operation.
There are still hopes that the survivors may have taken shelter in a safe compartment inside the vessel.
The Panama-registered tanker was carrying 136,000 tons of condensate, an ultra-light crude that is highly flammable, to South Korea.