Kabul Intercontinental Hotel Siege Ends, All Gunmen Killed
January, 21, 2018 - 10:34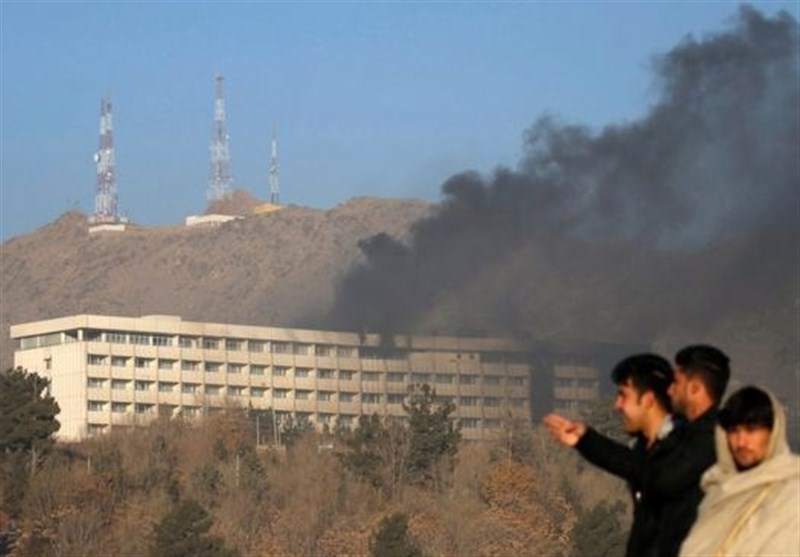 TEHRAN (Tasnim) – Afghan Special Forces ended an overnight siege at Kabul's Intercontinental Hotel on Sunday, killing the last gunman from a group of three attackers who stormed the hotel, taking hostages and battling security forces for hours.
Two gunmen were killed on Saturday night. It was initially reported that four gunmen had attacked the hotel.
Interior Ministry spokesman Najib Danish said at least five other people had been killed and six wounded, a lower casualty total than earlier feared, while 153 people, including 41 foreigners had been evacuated, Reuters reported.
As day broke on Sunday, thick clouds of black smoke could be seen pouring from the building.
There was no immediate claim of responsibility.
Hotel manager Ahmad Haris Nayab, who escaped unhurt, said the attackers had got into the main part of the hotel through a kitchen before going through the hotel.
According to one witness, who did not want to be named, the attackers took hotel staff and guests hostage.
The Intercontinental Hotel, an imposing 1960s structure set on a hilltop and heavily protected like most public buildings in Kabul, was previously attacked by Taliban militants in 2011.
It is one of two main luxury hotels in the city and had been due to host an information technology conference on Sunday. More than 100 IT managers and engineers were on site when the attack took place, Ahmad Waheed, an official at the telecommunications ministry, said.
The attack, just days after a United Nations Security Council visit to Kabul to allow senior representatives of member states to assess the situation in Afghanistan, may lead to a further tightening of security in Kabul.
Large areas of the city center are already closed off behind high concrete blast walls and police checkpoints but the ability of the attackers to get into a well-protected hotel frequented by both government officials and foreigners demonstrated how difficult it remains to prevent high profile attacks.