Putin Says He Feels 'Sad' about Not Being Included in US 'Kremlin Report'
TEHRAN (Tasnim) - The Russian president has commented on the reports that the US administration released on Monday the list that includes 114 Russian politicians and 96 businessmen who may face new US sanctions in future.
January, 30, 2018 - 16:54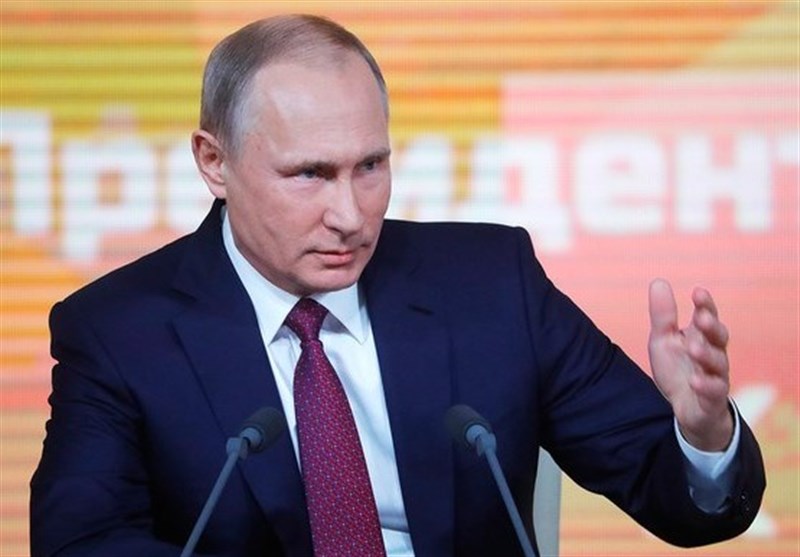 Commenting on the release of the report, President Putin said he was "sad" that he hadn't been on the list, adding that he only heard of the document from his colleagues but didn't see it.
The Russian president went on to say that the report represents an unfriendly step by the US administration, saying that it harms Moscow-Washington relations. Putin pointed out that that people behind the report are attacking own government, by pushing it toward confrontation with Moscow, Sputnik reported.
Despite that, Moscow will refrain from retaliatory measures and will act in accordance with the development of the situation, Putin added, saying that Russia is in favor of development of relations with the US.
President Putin's reaction on the report follows the furious statements by the representative of Russia's establishment, including Kremlin press secretary Dmitry Peskov and Russian upper house speaker Valentina Matvienko.
While Peskov said that the inclusion of top Russian politicians and business men in the report was "unprecedented," Matvienko called the publication of the document a "flagrant interference" in Moscow's domestic affairs.
The US Treasury Department published the document, which has been dubbed by media "the Kremlin report," on Monday. It is a list of most senior 114 Russian politicians and 96 businessmen who could be sanctioned by the US administration in future. It includes ten Russian ministers, such as Defense Minister Sergei Shoigu and Foreign Minister Sergey Lavrov among other high-profile officials.
Among business people, philanthropist Oleg Deripaska, businessmen Vladimir Bogdanov and Filaret Galchev, as well as Magnit retailer founder Sergey Galitsky and LUKoil Vice President Leonid Fedun were dubbed "oligarchs" and added to the list.
The report was prepared on the request of the Countering America's Adversaries through Sanctions Act (CAATSA), which was made by the US Congress last July and signed into law by President Trump in early August.