Iran President Urges Respect for Sovereignty of Neighbors
TEHRAN (Tasnim) – In a meeting with Turkey's foreign minister in Tehran, Iranian President Hassan Rouhani called for concerted action to end bloodshed and conflicts in the region, saying no country should face any threats from its own neighbors.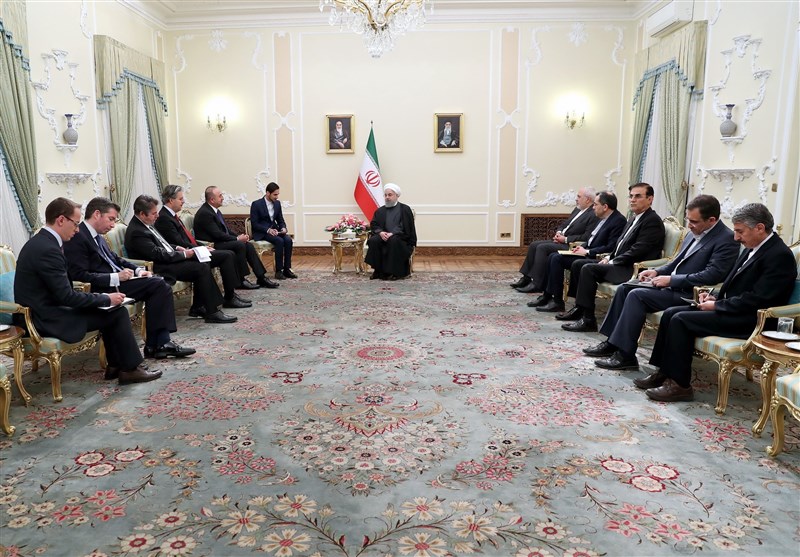 All countries in the region should join hands on religious and humanitarian grounds to stop bloodshed, Rouhani said in the meeting with visiting Turkish Foreign Minister Mevlut Cavusoglu on Wednesday.
"Preserving countries' independence and maintaining geographical borders will lead to promotion of security in the region, and we should make efforts and take measures in a way that no country feels threatened by its neighbors," the president added.
"Unfortunately, today certain sides seek to alter geographical borders in the region and, following their defeat in the north of Iraq, they embarked on hatching plots in northern Syria," Rouhani deplored.
He also touched on the recent Syria peace talks in the Russian city of Sochi, saying the congress was an important step towards settling regional problems.
For his part, the Turkish top diplomat, blaming the US for hatching new plots in the region to undermine the growing ties between Ankara and Tehran, called for close cooperation to thwart those schemes.
"We believe that we should stand up to plots that aim to undermine the territorial integrity of regional countries," Cavusoglu said.
On the Turkish military operation in Syria's Afrin, he said it was temporary and only against terrorists in that region.
The Turkish military launched the so-called Operation Olive Branch on January 20 against the Syrian Kurdish People's Protection Units (YPG) militia, seen by Ankara as a terrorist group.
Turkey's army and allied Ankara-backed Syrian militants are seeking to oust the YPG from its western border stronghold of Afrin. The operation so far has been marked by fierce clashes.
Damascus has strongly condemned the brutal Turkish aggression on Afrin, saying the region is an inseparable part of the Syrian territory.