South Korean President Dismisses Abe's Call to Resume US-South Korea Joint Drills
TEHRAN (Tasnim) - South Korean President Moon Jae-in dismissed a call by Japanese Prime Minister Shinzo Abe to quickly resume the US-South Korea joint military exercises, local media reported on Saturday.
February, 10, 2018 - 15:17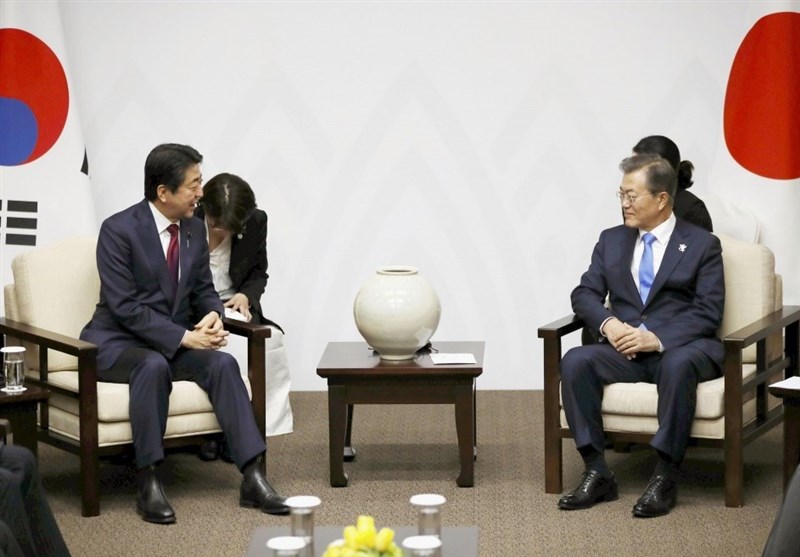 An unnamed official of South Korea's presidential Blue House was quoted as saying the Japanese leader told Moon at their summit Friday that it was not a right time to delay the annual joint military drills between South Korea and the United States.
Abe said it would be important to conduct the US-South Korea joint war games, codenamed Key Resolve and Foal Eagle, as scheduled, according to the Blue House official, Xinhua news agency reported.
The Japanese premier visited South Korea for the opening ceremony of the 23rd Winter Olympics held Friday night at the country's east county of PyeongChang.
In response, Moon said it was a matter of South Korea's sovereignty and its domestic affairs, noting it would not be appropriate for the Japanese premier to directly mention the issue.
Moon and US President Donald Trump agreed via a telephone conversation on Jan. 4 to postpone the joint annual war games during the Winter Olympics and Paralympic Games set to run from February to March.
President Moon has been seeking to maintain a dialogue mood between the two Koreas by making the PyeongChang Winter Olympics a peace Olympic. The DPRK dispatched about 400 people, including 22 athletes, 140 artists and a cheering squad, to the South Korea-hosted winter sports event.
Top DPRK leader Kim Jong Un invited Moon to visit Pyongyang. The invitation was delivered through his younger sister Kim Yo Jong who met Moon at the presidential Blue House on Saturday as a special envoy of the DPRK leader.