Iranian Official Shamkhani Denies Israel Drone Claim
February, 11, 2018 - 13:46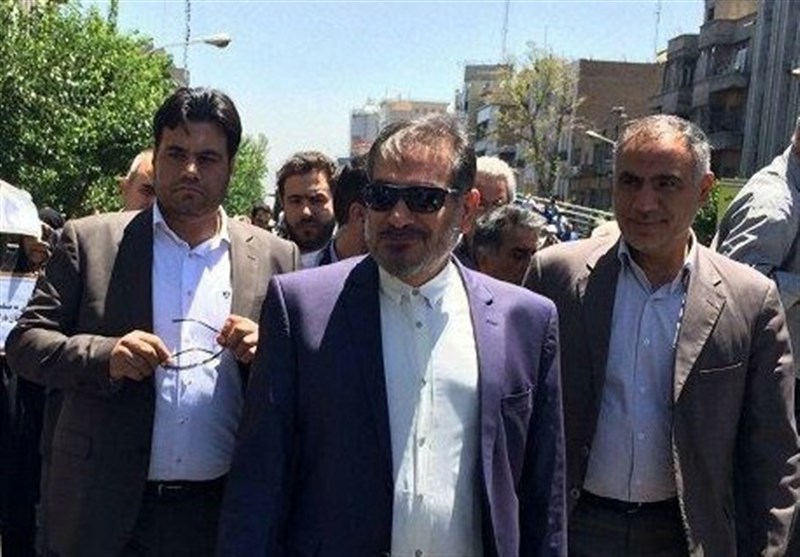 TEHRAN (Tasnim) - Secretary of Iran's Supreme National Security Council rejected as a lie the claims made by the Israeli regime that it has launched airstrikes in Syria after intercepting what it said was an Iranian drone.
"The claim by the Zionists (that they have carried out sorties) to damage Iranian bases in Syria is a lie," Ali Shamkhani told reporters in Tehran on Sunday, on the sidelines of rallies marking the victory anniversary of the Islamic Revolution.
Iran has "advisory, not military presence" in Syria, the security official reiterated, denying the Israeli allegation that its warplanes have scrambled in reaction to an Iranian drone.
Basically, one would not fly military jets to hit a drone, Shamkhani, himself a top general, added.
"The Syrian nation proved this time that it will respond to any act of aggression, as the era of hit and run is over," he underlined.
His comments came after the Israeli army launched attacks inside Syria after intercepting what it said was an Iranian drone and the subsequent downing of an Israeli fighter jet, which crashed after it came under fire from Syrian air defense.
The Israeli air raids began early on Saturday when the country's military said it had intercepted an unmanned aircraft over the city of Beit Shean "on a military mission sent and operated by Iranian military forces".
The Zionist regime retaliated by sending at least eight jets to attack Syrian and alleged Iranian military bases. One of those planes, an F-16 fighter jet, were shot down by the Syria forces on return from that mission.