Students Stage 'Lie-in' at White House to Protest Trump's Stance on Gun Control
TEHRAN (Tasnim) - Teenagers have staged a "lie-in" outside White House as students across the country mobilize to protest the lack of gun control in the US in the wake of one of the worst school shootings in the country's history.
February, 20, 2018 - 14:05
A group, known as Teens for Gun Reform, had 17 members lie down outside the White House to symbolize the number of people who lost their lives at Marjory Stoneman Douglas High School, Florida on Valentine's Day. Protests in Florida and beyond have criticized President Donald Trump's tepid response to the shooting, and several others were quick to join those on the ground, Independent reported.
Dozens were involved in the protest, chanting slogans like "We want safe schools!" and carry signs, including one which said "Am I next?"
"We have organized this protest in solidarity with all of those who were affected by the horrific school shooting in Florida last Wednesday, "the organization said in a statement. "We call on President Trump and leaders from both parties to finally act in the interest of America's youth and end these tragic mass shootings!"
Ella Fesler, a 16-year-old high school student in Alexandria, Virginia told the Associated Press: "It's really important to express our anger and the importance of finally trying to make a change and having gun control in America."
During the demonstration, Mr. Trump was at his Florida golf club, some 40 miles from the site of the school shooting. During his presidential campaign, Mr. Trump tied himself to the National Rifle Association (NRA), one of the most powerful gun-rights organizations.
A gunman attacked the Parkland high school, located about 45 miles north of Miami. With AR-15-style assault rifle. Nikolas Cruz, a 19-year-old former student, appeared in court on Monday in the wake of being charged with 17 counts of premeditated murder. He has not yet entered a plea.
Nikolas Cruz, his head bowed, hands shackled to his waist and wearing a red, jail-issued jumpsuit, showed no emotion during the first, procedural session in Fort Lauderdale.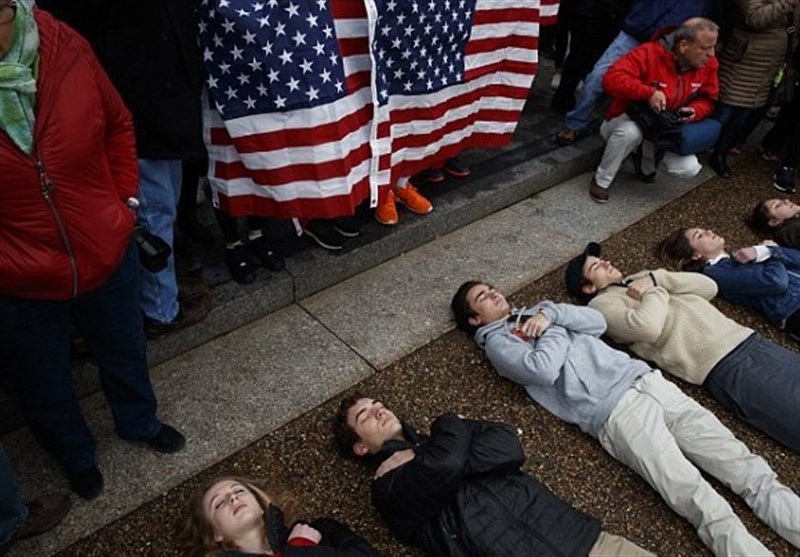 In the second hearing, the judge ordered the release of parts of a mental health assessment of Cruz by the Florida Department of Children and Families in November 2016. The report had already been leaked to a local newspaper.
Several student survivors have called on Mr. Trump and members of Congress to take action on gun control, appearing on news programmes to announce they will lead a nationwide demonstration next month to bring further attention to the issue. Student survivors also gathered with teachers and gun safety advocates on Monday to plan a visit to the Florida state capital of Tallahassee on Wednesday. They will demand state legislators enact a ban the sale of assault weapons in Florida.
Also on Monday, the White House announced that the President supports efforts to improve the federal background check system for gun purchases.
White House press secretary Sarah Huckabee Sanders said in a statement that Mr. Trump spoke on Friday with Senator John Cornyn, a Texas Republican, about a bill he co-authored with Senator Chris Murphy, a Democrat from Connecticut to bolster the federal background check system. She cautioned that "discussions are ongoing and revisions are being considered" to the measure.
"The president is supportive of efforts to improve the federal background check system," the statement added.
Over the weekend in Florida, Mr. Trump is said to have surveyed members at his Mar-a-Lago resort about whether he should support gun control measures. He told them he was closely watching the media appearances by the student survivors, The Washington Post reported.
As the gun control debate continues to roll around Washington, families of victims of the shootings are burying their children and friends.
More than 1,500 mourners on Monday were said to have attended a church for the funeral of 14-year-old student Alaina Petty, one of the victims of the Parkland massacre,
Family members spoke at Monday's funeral about how the teen had enthusiastically joined fellow Mormon youth for cleanup efforts after Hurricane Irma struck Florida in September. Her father, Ryan Petty, also spoke about the support the victims' families have received from their church, the community and others worldwide.
The funeral was held at the Church of Jesus Christ of Latter Day Saints in Coral Springs, not far from Stoneman Douglas.