Iran's Defense Power Non-Negotiable: President
TEHRAN (Tasnim) – Iran's president ruled out any possibility of talks on the country's defense capabilities, speaking in a meeting with the foreign minister of the Netherlands, who acknowledged Tehran's right to develop its military program for defense.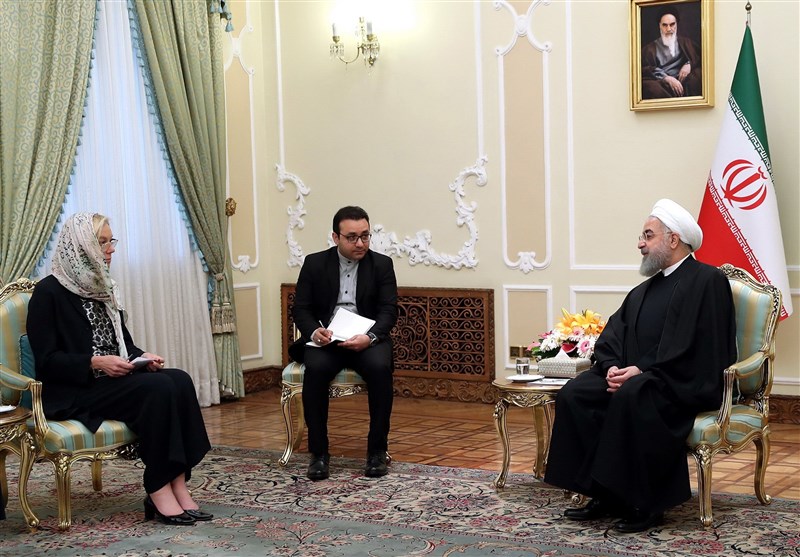 "Our people… rightly and rightfully believe that the country's defense power is not negotiable," Iranian President Hassan Rouhani said in the meeting with visiting Dutch Foreign Minister Sigrid Kaag in Tehran on Wednesday.
Denouncing a targeted propaganda campaign that certain states have mounted against Iran's missile program, Rouhani said Tehran is willing to hold talks on the widespread sales of Western arms to Middle East countries, including the warplanes and missiles that kill people in Yemen and destroy its infrastructures.
He further pointed to the UN nuclear watchdog's confirmation of Iran's compliance with the Joint Comprehensive Plan of Action (JCPOA), stressing that Iran will never be the first side to stop honoring the nuclear agreement with the Group 5+1 (Russia, China, the US, Britain, France and Germany).
The president then called for efforts to remove obstacles to banking interaction with the Netherlands, voicing Iran's enthusiasm for working with Dutch companies in the energy industry, environment, agriculture, energy management, transportation and tourism.
Highlighting the numerous grounds for economic cooperation between Tehran and Amsterdam, Rouhani urged plans for a rise in the bilateral trade exchange, which he said now stands at €1 billion.
The Dutch diplomat, for her part, said the Netherlands and the European Union are determined to enhance relations with Iran in all fields.
She also highlighted the EU's commitment to implementing the JCPOA, calling for continued negotiations with Iran as part of a trust-building process for cooperation on issues of mutual interest.
Kaag also underlined that the Netherlands recognizes Iran's legitimate right to military program for defense.
She further called for an immediate ceasefire in Yemen and the launch of national talks to end the humanitarian crisis in the Arab country and restore its security and stability.
The foreign ministers of the Netherlands and Spain arrived in Tehran on Tuesday night for talks on bilateral, regional and international issues.