IRGC Unveils New Anti-Armor Missile, Other Military Gear
February, 28, 2018 - 14:38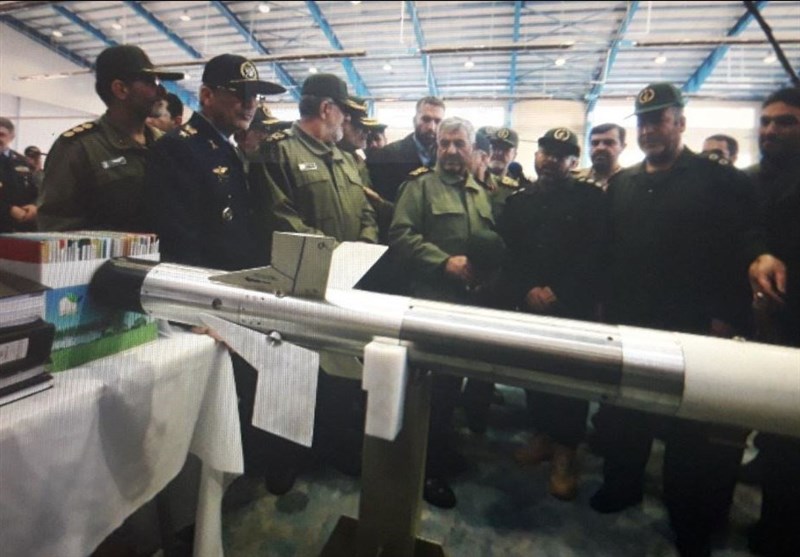 TEHRAN (Tasnim) – The Islamic Revolution Guards Corps (IRGC) Ground Force unveiled a new domestically-designed and –manufactured anti-armor automatic missile on Wednesday.
The new military gear, dubbed "Azarakhsh (lightning)", was unveiled during a ceremony in Tehran on Wednesday attended by IRGC Commander Major General Mohammad Ali Jafari and IRGC Ground Force Brigadier General Mohammad Pakpour.
The 127-millimeter caliber rocket weighs around 70 kilograms and can be installed on helicopter pylons.
The missile has a range of 10 kilometers (approximately 6.2 miles) and can lock on to its target, track it and automatically detect it.
The air-to-surface and surface-to-surface missile is also equipped with thermographic detectors with a maximum speed of 550 meters per second.
A multifunction tester used for measuring electrical parameters of Mi-17 helicopters as well as a night vision system for the Mil Mi-17 was also unveiled during the ceremony.
Iranian military experts and technicians have in recent years made great headways in manufacturing a broad range of indigenous equipment, making the armed forces self-sufficient in the arms sphere.
Tehran has always assured other nations that its military might poses no threat to regional countries, saying that the Islamic Republic's defense doctrine is entirely based on deterrence.