Iran, Iraq Ties Strategic: First VP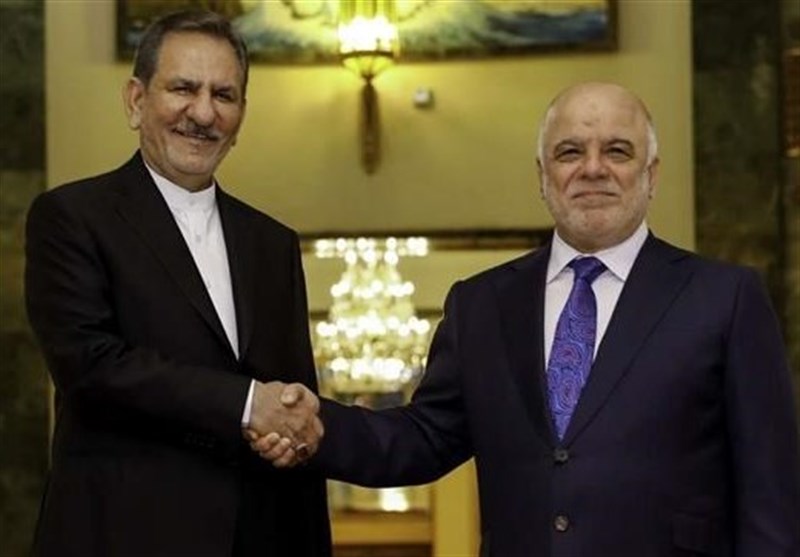 TEHRAN (Tasnim) – Iranian First Vice President Eshaq Jahangiri hailed the ties between Tehran and Baghdad as "strategic," saying the two sides should work to remove the restrictions in bilateral trade.
The many commonalities between the Iranian and Iraqi nations can lay the groundwork for the promotion of bilateral economic ties, Jahangiri said at a Wednesday meeting with Iraqi Prime Minister Haider al-Abadi in Baghdad.
The senior Iranian official stressed, however, that the two sides should work to remove the restrictions in bilateral banking relations, which he said is the main obstacle to closer trade ties between the two nations.
Iran and Iraq need a "comprehensive roadmap" for their economic cooperation, which would serve as a basis for their business ties, he added.
Jahangiri, who is in Iraq at the head of a high-ranking politico-economic delegation for a three-day visit, also said Iran is ready to provide Iraq with a line of credit (LOC) worth up to three billion dollars to pave the way for the Iranian private sector's active participation in the reconstruction of the neighboring country.
He underlined the need for connecting Iran-Iraq railways, saying the route will enable Iraq to have access to the Central Asia and China and link Iran's railway to the Mediterranean.
Jahangiri also called for the promotion of cooperation with Iraq in other areas, including pharmaceuticals, energy and customs.
Abadi, for his part, hailed the historic ties of the Iraqi and Iranian nations and underlined the need for enhancement of mutual ties in all the political, cultural and economic arenas.
The Iraqi premier expressed gratitude for Iran's role in the country's reconstruction and said that the Iranian private sector has made significant investments in the process.
Iraq is reeling from Daesh's (ISIL or ISIS) three-year terror campaign, which has taken a heavy toll on the country's infrastructure and economy.
Iraqi armed forces, backed by Iranian military advisors, fully liberated their homeland from Daesh terrorists in December.