Iran to Make Any Weapon Needed for Defense: President Rouhani
TEHRAN (Tasnim) – Iranian President Hassan Rouhani highlighted the country's self-sufficiency in the production of military hardware and said the Islamic Republic will not hesitate to produce any weapon it needs for defense.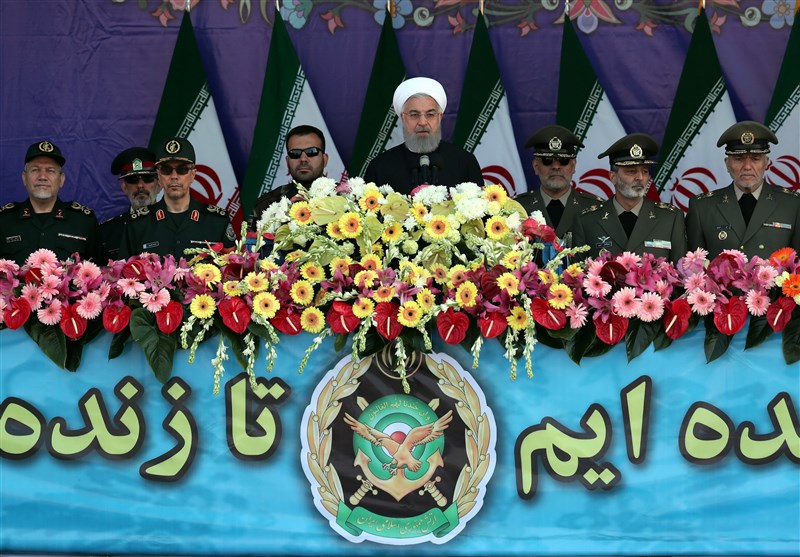 "The Islamic Republic of Iran's Army has protected the country against foreign conspiracies through its deterrent power," Rouhani said, addressing a ceremony held in Tehran on Wednesday to celebrate the National Army Day.
"The aggressive powers have nested around us and have an illegitimate presence (in the region)," he said, adding that they invade countries in violation of the UN Charter.
"In this situation, we need a powerful and deterrent armed force not only to prevent an invasion by aggressors, but also to protect the country from terrorists who cast a greedy eye onto our lands," the president said.
"(Therefore,) we will produce or procure any weapons that the Army and the Islamic Revolution Guards Corps (IRGC) need for defense," he added.
Various units of the Iranian Army held military parades across the country on Wednesday morning to pay tribute to the Army forces.
The parades saw units from the Ground Force, Navy, Air Force and Air Defense Force displaying some of their new weapons, systems and capabilities.
Iranian military experts and technicians have in recent years made great headways in manufacturing a broad range of indigenous equipment, making the armed forces self-sufficient in the arms sphere.
In comments in February 2018, Leader of the Islamic Revolution Ayatollah Seyed Ali Khamenei called for efforts to maintain and boost Iran's defense capabilities, hitting back at the enemies for disputing the country's missile program.
"Without a moment of hesitation, the country must move to acquire whatever is necessary for defense, even if the whole world is opposed to it," the Leader said.