Defense Minister Warns Israel against Regrettable Consequences of Hostility toward Iran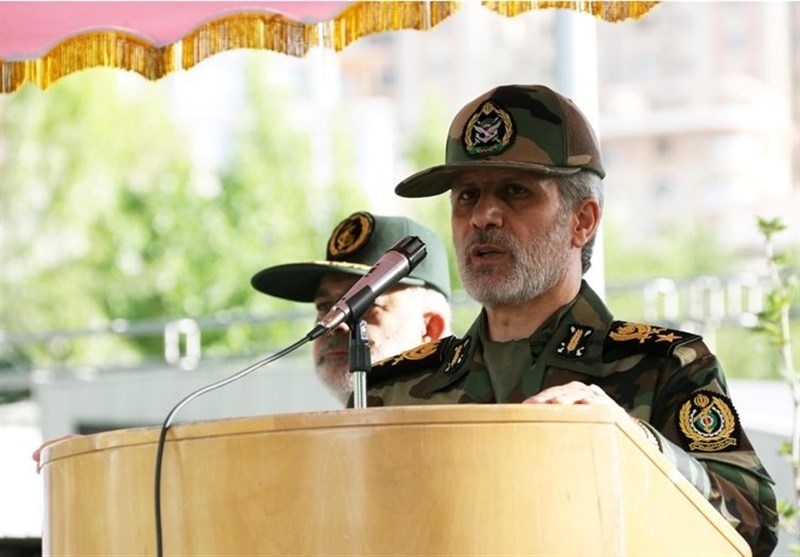 TEHRAN (Tasnim) – Iranian Defense Minister Brigadier General Amir Hatami condemned Israeli Prime Minister Benjamin Netanyahu remarks against Tehran and warned that if the Israeli officials do not refrain from plotting against the Islamic Republic, they will definitely regret it.
In a speech in Tehran on Tuesday, Brigadier General Hatami denounced Monday's comments by Netanyahu against the Islamic Republic as "a propaganda show" and said his recent television presentation was in continuation of the Zionist regime's attempts to divert public attention and cover up its "unjustifiable crimes" against the oppressed people of Palestine.
He further dismissed as "baseless and unfounded" the Israeli premier's allegations against Iran and said raising such claims, which even ordinary people do not accept, is a sign of the Zionist regime's frustration over its recent defeats in the region and in the face of the Palestinians' resistance.
"The Zionist regime and its prime minister have distanced themselves from rationality," the defense minister said, adding that if the Islamic Republic decides to resort to strategies other than those relating to its self-restraint, the regime would face surprising and regrettable consequences."
"I warn the occupying regime of the al-Quds (Jerusalem) and its supporters to stop conspiracies, plots, and dangerous behaviors," the commander noted.
Netanyahu on Monday delivered a televised address in which he accused Iran of violating the JCPOA.
"That is just not an acceptable situation. They're not sitting back idly. They're setting off missiles, which they say are for television purposes. I don't think so," he said.
Most of the purported evidence Netanyahu presented dated to the period before the 2015 accord was signed.
In a Tweet, Iranian Foreign Minister Mohammad Javad Zarif described the presentation by the Israeli prime minister as part of an attempt by the Tel Aviv regime to pressure Washington to withdraw from the 2015 nuclear deal between Tehran and world powers ahead of May 12.
"Pres. Trump is jumping on a rehash of old allegations already dealt with by the IAEA to "nix" the deal. How convenient. Coordinated timing of alleged intelligence revelations by the boy who cries wolf just days before May 12. But Trump's impetuousness to celebrate blew the cover," the top Iranian diplomat said.
Iran and the Group 5+1 (Russia, China, the US, Britain, France and Germany) reached the 159-page nuclear agreement in July 2015 and started to implement it in January 2016.
Ever since the deal took effect, the International Atomic Energy Agency (IAEA) has confirmed Iran's compliance with the JCPOA in all quarterly reports, but some other parties, especially the US, have failed to live up to their undertakings.
Donald Trump in January set a 120-day deadline for US lawmakers and European allies to "fix" his predecessor Barack Obama's main foreign policy achievement or face a US exit.