Iran, Eurasia Ink Preferential Trade Deal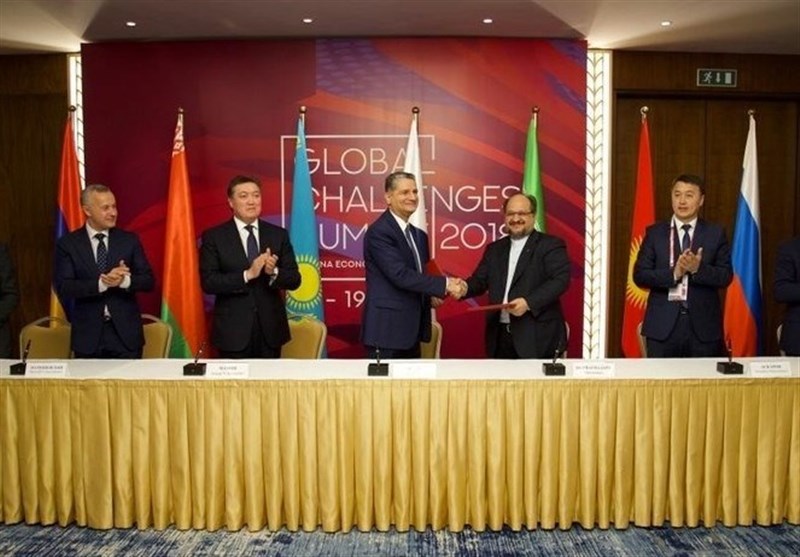 TEHRAN (Tasnim) – Iran and members of the Eurasian Economic Union signed a temporary preferential trade agreement in Kazakhstan on Saturday.
In a ceremony in the Kazakh capital of Astana, Iran and the Eurasian Economic Union (EEU) signed the accord and agreed to reach a comprehensive and lasting deal within the next three years.
The document was signed by Iranian Minister of Industry, Mine and Trade Mohammad Shariatmadari, Chairman of the board of the Eurasian Economic Commission Tigran Sargsyan, and deputy prime ministers of Belarus, Armenia, Kazakhstan, and Russia.
In comments after signing the agreement, Sargsyan said a final deal would reduce or eliminate tariffs on the imports of a wide range of items.
A draft agreement between Iran and the EEU was signed in Armenia in July 2017.
The Eurasian Economic Union is an economic union of states located primarily in northern Eurasia. A treaty aiming for the establishment of the EEU was signed in May 2014 by the leaders of Belarus, Kazakhstan and Russia, and came into force in January 2015.
Treaties aiming for Armenia's and Kyrgyzstan's accession to the Eurasian Economic Union were signed in late 2014.